US to support Ukraine's NATO bid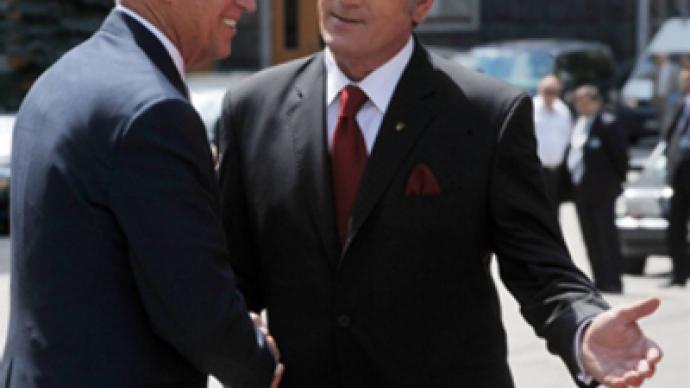 Washington will support Ukraine's bid to join NATO, says US Vice President Joe Biden, who is on an official visit in Kiev.
He has held a meeting behind closed doors with Ukrainian President Viktor Yushchenko and held a conference afterwards.
During the speech following the talks the US second-in-command said that if Ukraine decides to join NATO the US will "strongly support" the bid. He stressed that the country is free to choose its foreign policy alliances.
Biden stressed that attempts to improve relations between the US and Russia will not come at the expense of Ukraine.

After leaving Ukraine, the Vice President will head for another post-Soviet state looking for integration into the West – Georgia.
"To my view this is a "good cop/bad cop" game. The good one is U.S. President Barack Obama and the bad one is Biden. I reckon that Biden's visit is a tactical ploy… The United States is doing propaganda work, aimed at showing pro-American politicians in Ukraine and Georgia that the attitude toward them haven't changed after the 'resetting' process with Russia."
Andrey Klimov, deputy chairman of International Affairs committee at the State Duma (RIA-Novosti news agency)
The visit is being closely followed in Russia. Moscow strongly opposes potential NATO membership for Ukraine, claiming the move would threaten its national security.
Russian Foreign Ministry spokesman Andrey Nesterenko said Moscow expects the US contacts with Georgia and Ukraine will be transparent and will not involve "backdoor games".
"The choice of partners for international cooperation is the sovereign right of countries forming those relationships themselves. The main thing is that such dealings should be transparent, without any backstage politics. And they should not harm the interests of others. We need to take into account the regional context of relations, social and historical features, as well as existing cultural traditions," he said.
Meanwhile, NATO Secretary General Jaap de Hoop Scheffer has poured cold water on Ukrainian and Georgian prospects for membership of the military alliance, saying both countries are "not ready".
And he stressed that the situation was unlikely to change in the near future. NATO's top official also indicated that political instability is a concern in both countries.
Read also Joe Biden Says Hello to Poor Leaders of Former USSR
You can share this story on social media: