US, UK 'carving out' rebel-controlled security zone in southern Syria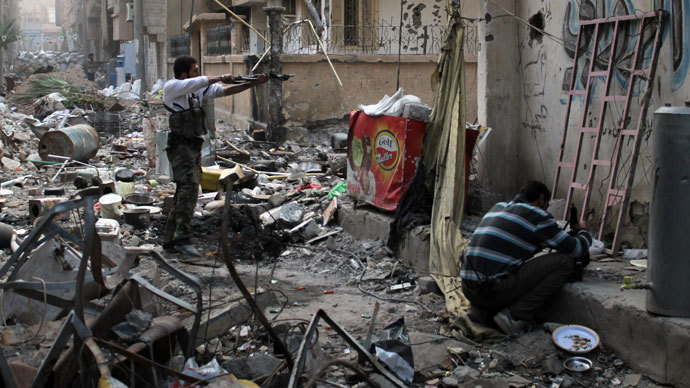 The United States announced this week that it's suspending non-lethal aid to the Syrian opposition, but military and intelligence sources now claim that the Pentagon is constructing a new pro-American security sector south of Damascus.
Israel's Debkafile reported on Wednesday that the US Department of Defense is far from fully abandoning its involvement in the bloody Syrian civil war. Now with non-lethal aid from the US being diminished, American and British troops will begin assisting rebel fighters being trained and hosted in neighboring Jordan, the outlet's sources said.
According to Debka, the decision made earlier this week to rescind support geared at the opposition is part of a multi-prong maneuver that will not eliminate aid altogether, but rather transfer resources to Syrian rebels that have already been trained in Jordan. Under the supervision of two US war rooms already established in the town of Irbid, those fighters will be tasked to take control of a newly created security-zone south of Damascus near the Jordanian border.
The pro-US security zone, the sources told Debka, would cover around one-tenth of all of Syria and provide opposition fighters with a new, American-assisted hub to further their fight against embattled President Bashar al-Assad and his regime.
Additionally, the strategic location has been reportedly mapped out as to distance the Al-Qaeda aligned Al-Nusra Front — who are also joined in the fight to oust Pres. Assad — from the American-aligned opposition.
Earlier this week, American officials announced that they'd be suspending some aid to Syria following news that a group of Islamist extremists took control of warehouses full of supplies that had until then been maintained by the anti-Assad opposition groups being supported by the US.
The Washington Post reported on Wednesday that the extremists — the recently created Islamic Front — are not affiliated with Al-Qaeda and "may leave the United States with little choice but to work with it." According to the military and intelligence sources cited by Debka, however, the Pentagon has decided to instead rely on the aid of rebels who have been trained throughout the two-and-a-half-year-long war to the south in Jordan.
Those two war rooms, Debka reported, are being led by US Special Operations Command, Adm. William Harry "Bill" McRaven and will be assisted by US special forces in the region.
"Their primary mission, as laid down by the White House in Washington in a directive to the Pentagon, is to run the rebel units charged with taking control of the security zone," Debka claims.
That security zone, the sources said, will also add an extra layer of protection to Syria's borderland with Jordan, Israel and Lebanon.
As RT reported earlier this year in June, the Pentagon has previously agreed to leave a fleet of F-16 fighter planes and its Patriot anti-missile in Jordan after completing a round of multi-nation military drills.
In August, Joint Chiefs of Staff Chairman Gen. Martin Dempsey told reporters that US military activity in Jordan could easily extend for "several years."
You can share this story on social media: