US debt collectors cash in on $1 trillion in student loans
Most US college students hope to land a good job with a high salary after graduation. But for some the reality is very different. Many find themselves faced with insurmountable debt – and a loan industry that's happy to cash in on their misfortune.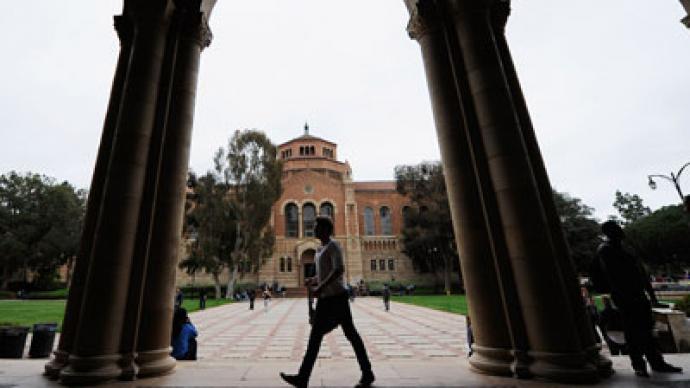 As the number of people taking out government-backed student loans has soared, so has the number of borrowers who have fallen behind in making payments.
Around 5.9 million people nationwide have fallen at least 12 months behind in their payments. This number has grown by a third in the last five years, according to a State Higher Education Finance survey.
Many who can't repay their loans feel they have no choice but to default. It's a decision that can be disastrous – ruining a borrower's credit and increasing the amount they owe. It can also result in penalties of up to 25 per cent of the balance.
Despite the scary consequences, young adults across America have chosen to default on their loans. And that decision has resulted in a cat-and-mouse game with the government.
"I keep changing my phone number. In a year, this is probably my fourth phone number," former student Amanda Cordeiro told the New York Times.
Cordeiro receives up to seven calls a day from debt collectors attempting to recover her $55,000 in overdue student loans. But phone calls are just the beginning.
Since the federal government imposes no statute of limitations for collecting loan repayments, escaping the debt is nearly impossible.
"You are going to pay it, or you are going to die with it," said John Ulzheimer, president of consumer education at SmartCredit.com.
As America's poor economy causes companies and small businesses to close their doors, the debt collection industry is booming.
Conserve, a debt collection agency in New York, expects to double its payroll in the next three years.
"There is great opportunity," the company's president and founder Mark E. Davitt, told the New York Times.
It's easy to see where that opportunity comes from.
The nationwide student loan balance is more than $1 trillion. It's a number that makes borrowers cringe.
However, debt collectors are more than grateful for the astronomically high amount of debt among college graduates.
Debt collectors used to receive a steady and reliable income from credit card debt, but the slowing economy has made collection a challenge.
Now, student loans are filling that hole. In fact, many are calling students the "new oil well" for the debt collection industry.
"While the Department of Education debt collection contract has been one of the most highly sought-after contracts within the ARM industry for years, I believe it is now THE most sought-after contract within this industry, centered within the most sought-after market – student loans," mergers and acquisitions specialist Mark Russell wrote on Insidearm.com.
It's a win-win situation for both the government and collection agencies. Government officials estimate they will collect 76 to 82 cents on every dollar of loans made in fiscal 2013 that end up in default. Borrowers then have to pay collection costs, which go straight to the debt agencies.
In addition to the balance, borrowers are charged for collection costs, which go straight to the debt agencies.
The rewards trickle down to other areas, too.
Educational Credit Management Corp. (ECMC), a Minnesota based agency, benefits from its 18-year-old agreement with the US government, according to Bloomberg News.
The company charges fees to borrowers and earns commissions from taxpayers when it collects on defaulted student loans. And the rewards are lucrative.
ECMC's debt collectors earn financial perks as a reward from extracting money from defaulted borrowers. In 2010, the company's top performers received bonuses equivalent to as much as 10 times their base salaries, which range from $33,000 to $46,000.
It's a never-ending cycle between borrower and lender – and the winner is almost always the lender. After all, it's nearly impossible to hide from the government.
"It's the closest thing to debtor prison that there is on this Earth," former student Patrick Writer said of his federal loan.
You can share this story on social media: