US online voting system vulnerable to hacks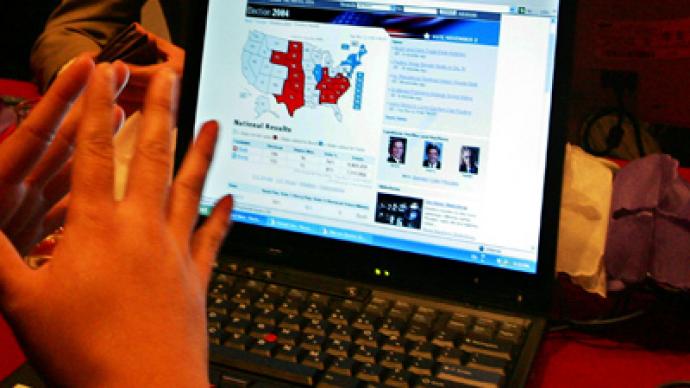 In an increasingly digital world, online voting would increase voter turnout, especially among troops and other overseas Americans – but it would also be vulnerable to hackers.
Thirty-one states currently allow service members and other overseas Americans to return their ballots via fax, e-mail or voting on a secure website. The option to vote electronically is likely to boost participation. In 2010, a West Virginia pilot program allowing overseas troops to vote online raised voter participation for absentee ballots from 58 per cent to 76 per cent."I want to push to see how we can agree on the (electronic) ballot return,"said West Virginia's Secretary of State Natalie Tennant, who stressed the need for Internet voting to help not just US citizens overseas, but also disabled voters living in the US.The option to vote online is important to attract a young demographic, said Louisiana Secretary of State Tom Schedler.But a new report, Counting Votes 2012, says electronically submitted ballots cannot be independently audited and are prone to being hacked. Additionally, electronic voting leaves nothing to recount in a dispute, the report states."They're trying to do a calculus and make it easy for the voter, and they may not realize the great risk they're putting those votes at,"Pam Smith, a member of the Verified Voting Foundation, told USA TODAY.Two years ago, the District of Columbia set up a pilot Internet voting program and encouraged people to hack into it and corrupt it. One team of hackers managed to change the votes and play a school fight song on the program – demonstrating the ease of manipulating votes online."Internet voting is not ready for prime time. The security environment is not what it needs to be to cast ballots over the Internet,"said Susannah Goodman, one of the report's authors.Internet voting needs to be anonymous to be secure and maintain the standard of a secret ballot, which would make it difficult to verify the identity of an Internet voter.And accuracy in counting votes is important – especially in an election that is anticipated to be as close as this year's.Still, many voters and election officials are hoping for the option to vote online. Only 20 per cent of the 2.5 military voters were able to request and return their absentee ballots on time in the 2008 election, according to the Military Voters Protection Project.But the issue is a double-edged sword, and the US must decide whether to potentially sacrifice accuracy or voter turnout in an anticipated close election.
You can share this story on social media: