Privet! Russian warships feature prominently in DNC salute to US vets
Published time: 13 Sep, 2012 08:06
Edited time: 13 Sep, 2012 16:14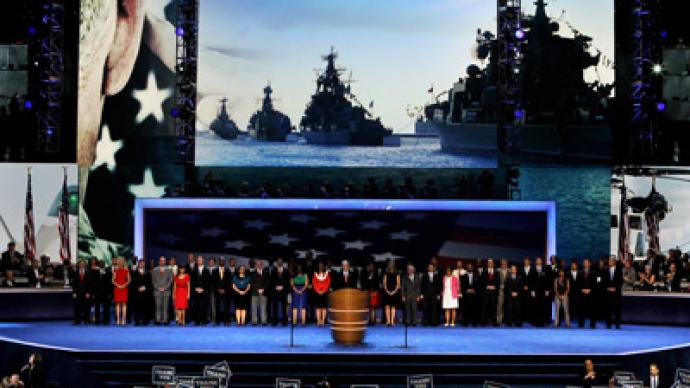 Four Russian Navy vessels lit up a jumbotron on the final evening of the Democratic National Convention in what was intended to be a patriotic salute by a retired US Navy Admiral to his fellow veterans.
­Rob Barker, a former electronic warfare specialist, immediately identified one of the warships as the Cold War-era Soviet cruiser 'Kerch,' a vessel from Russia's Black Sea Fleet. Barker was trained to visually identify ships by their radar arrays, and said he was shocked when he noticed the error, the Navy Times reported.

Other US Naval experts also spotted parts of the ships that gave away their Russian origins. Eric Wertheim, editor of 'Combat Fleets of the World,' noted several characteristic features of Russian Black Sea Fleet vessels.

The ship in the far right of the foreground – the Kerch – had a square radar antenna at the top of its masthead, Wertheim said. He identified it as the MR-700 Podberezovik 3D early warning radar, dubbed 'Flat Screen' for its appearance.

Another ship featured the MR-310 Angara ('Head Net') air-detection radar – shaped like two bananas – on its masthead, and was mostly likely the Russian guided missile destroyer 'Smetlivyy.'

Besides the ships' radar arrays and hulls, observers could also easily spot a major symbol of the Russian Navy on the crafts: The white flag of St. Andrew's crossed diagonally by two blue stripes.

It was initially unclear why the Democratic Party used the images of the Russian Black Sea Fleet at their convention. On Wednesday, convention organizers apologized for "accidentally using an image of Soviet-era Russian warships in its backdrop," and offered an explanation.

"Due to vendor error, incorrect images appeared briefly on screen behind 51 veterans during the convention and the DNCC apologizes for this mistake," a Democratic National Convention Committee spokesperson said in a statement to the Navy Times. "This error should not distract from the words of Admiral Nathman and others who spoke to President Obama's strong record on issues that impact those who have served our nation."
Alex Wong/Getty Images/AFP