US settles with firms over illegal foreclosures on military families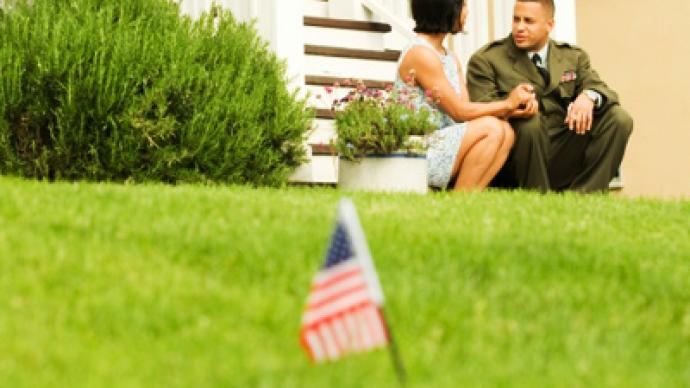 Active-duty military members are protected by the Servicemembers Civil Relief Act, the law prohibits foreclosure on a servicemember's home unless there is a court order – a report found number of banks neglected to follow the law.
The US Government Accountability Office found in a report that widespread violations of the law took place and the US Justice Department alleged that a Bank of America unit, which was formerly part of Countrywide Financial, illegally foreclosed on at least 160 military families between January 2006 and May 2009 because they neglected to check to see if the owners were active-duty military personnel. They also argued that Saxon Mortgage Services at Morgan Stanley foreclosed on another 17 military families without authorization.The two firms have now reached a settlement with the government over the improper foreclosures. Bank of America has agreed to pay $20 million, and Saxon Mortgage Services agreed to pay $2.35 million to settle the legal dispute. Both companies have also agreed to pay beyond those amounts if further illegal military foreclosures are discovered. "I feel quite confident in the thoroughness of the investigation to date," said Assistant Attorney General Tom Perez. "However, if we identify other victims in the course of our review, or if the servicers identify other victims, we will of course compensate them."Perez estimates that on average families in the Saxon Mortgage case will receive around $130,555 each and families in the Bank of America case will receive $125,000 each. "First and foremost, we want to apologize to those military families that were affected by any mistakes made in the foreclosure process. Our servicemen and women deserve the highest level of customer service. Saxon has taken meaningful steps to ensure it has appropriate policies and procedures in place to comply fully with the Servicemembers Civil Relief Act," said a statement released by Morgan Stanley regarding the Saxon Mortgage Services case. While many military families are relieved to have money in their pockets, many will be unable to return to their homes, some of which have already been sold to other owners. The families have mixed emotions, relived, sad, angry and confused at the same time. "To this day I still don't understand why," US Army Sgt. James Hurley told the Huffington Post. "They took it illegally; why can't I get it back? I didn't want any money. All I wanted was my house back.""These banks know they can't do it, but they turn around and they do it anyway," he said. "Because they're the people who are in power, and they think all the government's going to do is slap their hands."
You can share this story on social media: