Iraqis terrified of US drones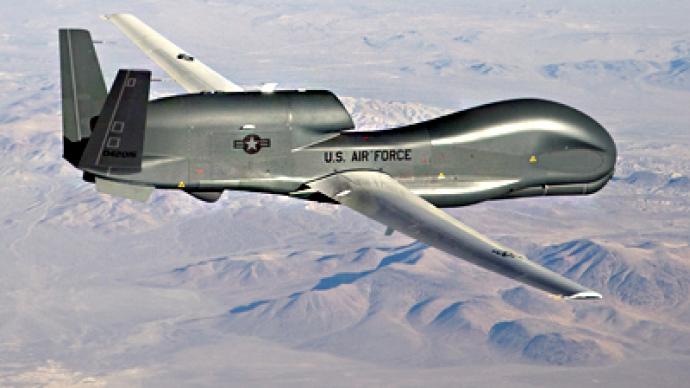 America's War in Iraq has finally ended, but the same can't be said about the United States' presence overseas. Iraqis are now outraged that the US is operating a fleet of surveillance drone aircraft planes over the country.
Only a month after the last US servicemen were sent out of Iraq, the United States is once again causing complaints to come from authorities overseas. Even after officially ending their war, the United States is operating a fleet of the controversial robotic aircraft over the country, much to the chagrin of Iraqis.
It is no secret that Iraqis wanted America out of their country in the first place. After nearly eight years of war, US armed forces vacated last month. The recent arrival of drones has Iraqis wondering, however, if the war will ever end.
Aside from the fleet of drones flying overhead, the tally of American-aligned personnel in Iraq totals close to 15,000. The US Embassy in Baghdad is the largest of its kind, and holds around 11,000 staffers. Military contractors on assignment to protect the embassy account for around another 4,000. If that presence on the ground wasn't enough, now the US is putting its planes overhead.
Adnan al-Asadi, the acting minister of interior in Iraq, tells the New York Times, "Our sky is our sky, not the USA's sky."
To American authorities, however, policing the world requires no boundaries. Military contractors speaking of the case seem to think that other nations are next, too.
In the Times report, American contractors say that they believe the US State Department will expand their drone operation over other nations that are considered potential "high-threats." Contractors speaking on condition of anonymity believe that Pakistan, Afghanistan and Indonesia are next.
In recent weeks the US has come under attack for the use of surveillance drones in Iran. As tensions tighten between nations while talks of a nuclear program continue out of Iran, the US sent a surveillance drone over Iran, only to be intercepted and recovered by Iranian authorities. US Defense Secretary Leon Panetta responded by saying that the US will "absolutely" continue with drone missions in Iran.
Drone operations in Iraq were happening before the troop withdrawal in December 2011, but even as the last US troops vacated the country, American authorities have upped the number of drones. In a solicitation for work posted by the State Department shortly before the war "officially" came to a close, the US government asked for contracts to keep contractors managing drone operations in Iraq for the next five years.
The US State Department has confirmed that they have a drone program in Iraq, but insist that the crafts in question are only for surveillance purposes and cannot engage in firefights.
''The UAVs being utilized by the State Department are not armed, nor are they capable of being armed," responds the government.
Iraqis fear that American authorities won't always stand by that, however. To the Times, 37-year-old café owner Hisham Mohammed Salah says that his concerns are that America will do just as they've had in other countries. "We hear from time to time that drone aircraft have killed half a village in Pakistan and Afghanistan under the pretext of pursuing terrorists," he says. "Our fear is that will happen in Iraq under a different pretext."