Two US intelligence officers killed in Afghan suicide bombing
Published time: 17 Oct, 2012 17:53
Edited time: 17 Oct, 2012 21:53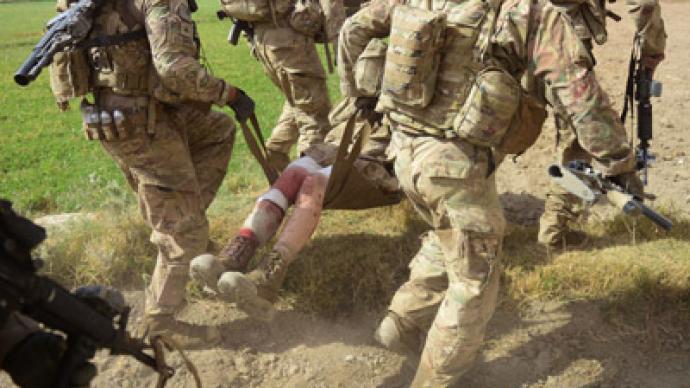 A 24-year-old intelligence female officer with the US military has been identified as one of two Americans killed in Afghanistan over the weekend in an apparent suicide bombing in Kandahar province.
Army Specialist Brittany B. Gordon is being considered the latest addition on a list of only 22 American women fatally wounded in Afghanistan since Operation Enduring Freedom began over 11 years ago. She was pronounced dead on October 13 as a result of wounds she suffered after an improvised explosive device (IED) was detonated near an intelligence office in the remote Maruf district, Afghan officials tell the Tampa Bay Times.
"It is not one that was planted as a mine. The person was wearing a suicide vest. This is also considered an IED," US Rep. C.W. Bill Young, a lawmaker on the House of Representatives defense appropriations subcommittee, tells the Times. "It was an inside job."
Reports suggest that the assailant was wearing the explosives beneath an intelligence service uniform when a delegation that included US coalition members was delivering furniture to an office in Maruf over the weekend.
Sources speaking to the Times say the suicide bomber is thought to have been targeting local agents with the National Directorate of Security, an Afghan intelligence service, and that the American casualties are the result of collateral damage.
Another American, identified so far only as an officer with the Central Intelligence Agency (CIA), was also killed in the blast, along with four Afghan officials.
"The man believed he was attacking the NDS delegation; he probably was not aware of the foreign soldiers coming with them," Maruf district chief Haji Malim Toorylai says.
Mr. Toorylai adds to reporters that the culprit behind the blast was Abdul Wali, a native of a nearby village. Hours after the attack, the brother of one of the Afghani victims reportedly killed the 9-year-old sibling of the assailant.
According to iCasualties, a website that monitories military fatalities, 276 Americans have been killed in battle just this year, more than the number of US service personnel lost in the first five years of Operation Enduring Freedom combined. So far 13 Americans have been killed in just the month of October.
Spc. Gordon was serving only her first deployment to Afghanistan at the time of her death after joining the military in 2010, four years after graduating from high school. She had been assigned to the 572 Military Intelligence Company, 2nd Stryker Brigade Combat Team, 2nd Infantry Division, military officials report, a group stationed out of the Joint Base Lewis-McChord in Washington state.
"Things have gone wrong in Afghanistan," Rep. Young adds to the Times. "Something has to change. Too many people are ignoring that fact, and suggesting that it's not that bad. But it is that bad."
US President Barack Obama has insisted repeatedly that he will end all offensive operations in Afghanistan during the year 2014, a claim that Vice President Joe Biden endorsed earlier this month while debating Paul Ryan, the Republican Party's nominee for White House hopeful Mitt Romney. Just this week, however, a leading Obama administration official acknowledged that the US may remain engaged overseas for years to come, with American officials hoping to negotiate with Afghans a deal that will allow them to stay for the unforeseeable future.
Marc Grossman, the State Department's special representative for Afghanistan and Pakistan, told reporters on Tuesday that talks will soon be held to help determine how and who will be left overseas after the Obama-ordered deadline. According to Foreign Policy, "the point of the upcoming negotiations is to agree on an extension of the US troop presence well past 2014, for the purposes of conducting counterterrorism operations and training and advising the Afghan security forces."