US cuts plans for Gitmo prosecutions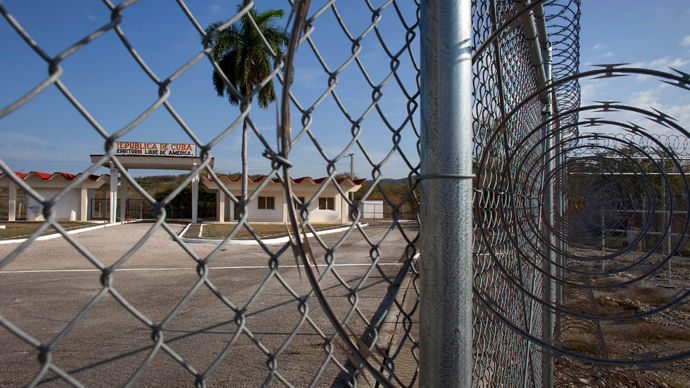 The US is scaling back its Guantanamo prosecutions from 36 to 20 or less, admitting that it lacks the evidence to convict many of the detainees of international war crimes.
Of the 166 detainees held at the prison camps, few have viable charges to face war crimes tribunal. Army Brigadier General Mark Martins, the chief prosecutor for the tribunals, told Reuters that the 36 detainees the US initially sought to prosecute was an "ambitious" number.
The Guantanamo Review Task Force completed a review in 2010 that made this determination, but Martins said no more than 20 detainees have viable charges that prosecutors could realistically pursue. Seven of these have already undergone their trials, and six are facing pretrial hearings this week and next.
The drastic reduction of prosecutions comes in light of the dismissal of Salim Hamdan, a former driver for Osama bin Laden whose conviction was overturned by the US Court of Appeals for the DC Circuit last October. Hamdan had been convicted by a US military commission of providing material support to al-Qaeda terrorists, but the appeals court decided that this was not a crime under international rule of law at the time that Hamdan worked for bin Laden.
The US Congress in 2006 passed the Military Commissions Act, which defines an "unlawful enemy combatant" as someone "who has purposefully and materially supported hostilities against the United States or its co-belligerents who is not a lawful enemy combatant".  The appeals court concluded that this law could not be applied retroactively, and Hamdan's charges were dismissed.
Hamdan had already finished his sentence and returned to Yemen when his charges were thrown out, but the court ruling caused Guantanamo prosecutors to give up on many of the other cases they initially sought to pursue, Martins told Reuters.
Although some of the detainees facing war crimes tribunal are already known, Martins did not identify them all by name.
On Monday, US military prosecutors filed charges against Abd al-Hadi al-Iraqi for a war crime coined "perfidy", claiming that he coordinated a series of suicide attacks on US and allied troops and civilians in Afghanistan. Army Lt. Col. Chris Callen, a lawyer appointed to defend al-Hadi, told AP that he would go over the charges with the detaineeon Tuesday.
Pretrial hearings will also begin next week for five prisoners accused of being involved in the planning of the September 11, 2011 terrorist attacks, including alleged mastermind Khalid Sheik Mohammed. Pretrial hearings are currently  underway for Abd al Rahim al Nashiri, a Saudi Arabian man accused of directing a number of suicide attacks, including the bombing of the USS Cole, which resulted in the deaths of 17 American sailors.
Both Nashiri and Mohammed are facing the death penalty, but of the 166 detainees still held at Guantanamo, only 20 may ever be prosecuted.
You can share this story on social media: