US and Egypt clash over Americans accused of conspiracy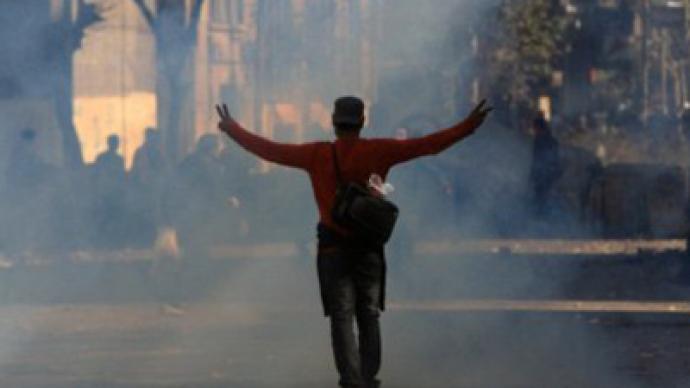 The honeymoon between the United States and the new post-Mubarak government in Egypt didn't last long. Only months after the US helped force the former president to step down, new rulers of Egypt are turning against the US.
The Egyptian government vows that they will bring 19 Americans to trial for allegedly influencing the violent revolutions after last year's ousting of former President Hosni Mubarak with the aid of foreign funds.Nearly 20 Americans have been named in an Egyptian investigation over how foreign pressure help fund unrest by way of international pro-democracy groups. An English-language website out of Egypt published the names of 43 persons being charged on Monday, including 19 Americans. Washington initially vowed to impose sanctions on Egypt if they follow through with charges against the Americans. On Monday, Cairo ignored warnings and insisted that the 19 Americans will be brought to trial. Egyptian leaders say that during and after the fall of Mubarak, the nearly four dozen people in question used foreign funds to encourage violence, unrest and revolution in Egypt. Among the Americans that are facing trial are the son of US Transportation Secretary Ray LaHood, and Patrick Butler, the vice president of programs at the DC-based International Center for Journalists.According to International Cooperation Minister Faiza Aboul Naga, the investigation in Egypt has led authorities to believe that Sam Lahood, Butler and other parties were involved in "plots aimed at striking at Egypt's stability" with foreign funding. Five Serbs, two Germans and three non-Egyptian Arab nationals are also named in the probe. Egyptian personnel have banned all 43 suspects from leaving the country, although 14 people are believed to have fled Egypt by Monday, according to a report from the Washington Post.Responding on Monday, the US ambassador to the United Nations fired back at Egypt for their insistence on extending the investigation. "These Americans have done absolutely nothing wrong," Ambassador Susan Rice said on CBS News Monday morning. "They do what American and international NGO workers do in various different parts of the world, which is to support democratic development and civil society."Over the weekend, US Secretary of State Hillary Clinton warned Cairo that the US would soon consider measures to cut foreign aid to Egypt if they insisted on following through. Mohammed Amr, the Egyptian minister, responded by refusing to give in, citing that US-led intervention would damage the democratic judicial system that the US was insisting on implementing."We are doing our best to contain this but … we cannot actually exercise any influence on the investigating judges right now when it comes to the investigation," Amr told reporters at a security conference in Munich, Germany.Before the incident escalated in recent days, Egypt was slated to receive $1.5 billion in aid by the United States in 2012.Hours after Amr's rebuttal, the government released plans to go through with criminal trials. If convicted, those on trial stand to serve upwards of seven years in jail.
You can share this story on social media: