'Worst job recovery in history' - US economy falls below expectations for the second month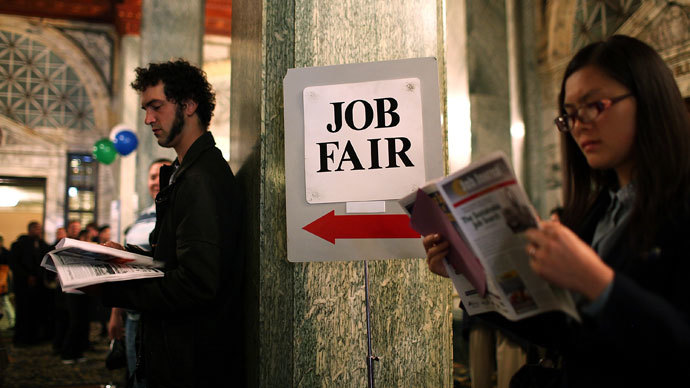 The US economy fell below expectations for the second consecutive month, with January adding only 118,000 new jobs, according to the latest data from the Bureau of Labor Statistics.
The numbers released on Friday were an improvement over the 75,000 jobs added in December, but they still landed well short of the 178,000 jobs economists were expecting.
January's job gains also fell below 2013's average monthly job growth, which came in at 194,000.
Despite the economy's disappointing numbers, the Associated Press reported that more people started looking for work in January. Since some of these people were able to find jobs, the unemployment rate ticked down to 6.6 percent, the lowest it's been since October 2008.
There are still about 3.6 million people classified as long-term unemployed in the United States, though. Even that number, in reality, is probably higher since unemployment benefits were discontinued for a number of Americans by the end of last year and have yet to be restored. All told, about 63 percent of Americans are either employed or looking for work – a little higher than last month's numbers but still near a low point the US hasn't seen in more than three decades.
In a post on the White House blog, the Obama administration's chairman of the council of economic advisers John Furman called the overall unemployment rate "unacceptably high" and urged Congress to reinstate the extended unemployment benefits.
"Today's report is another reminder of both the progress that has been made and the challenges that remain," he wrote. "Businesses have now added 8.5m jobs over the last 47 months and the unemployment rate ticked down to its lowest level in more than five years. But the economy is still healing from the Great Recession and steps are still needed to expand economic opportunity."
Meanwhile, Speaker of the House John Boehner (R-Ohio) called the current state of the economy the "worst jobs recovery in history" and pinned the blame on President Obama's lack of leadership, according to the Guardian.
"The American people continue to ask 'where are the jobs?,' and the president clearly has no answers," Boehner said.
With the unemployment rate dropping, attention is also shifting to the Federal Reserve, which previously indicated it would start halting its stimulus policies once unemployment reached 6.5 percent. Now, however, the Fed is expected to revise the way it looks at the economy as it considers a path forward.
"A low unemployment rate doesn't mean what it did in the past," Coronado told CNN. "It's not associated with an acceleration in hiring, and it's not associated with stronger wage growth. Ultimately, what the Fed wants to see is more money in consumers' pockets."
You can share this story on social media: