US insurance firms unlikely to cover $1 billion in home damage after record-breaking drought
Published time: 1 Sep, 2012 22:51
Edited time: 2 Sep, 2012 02:51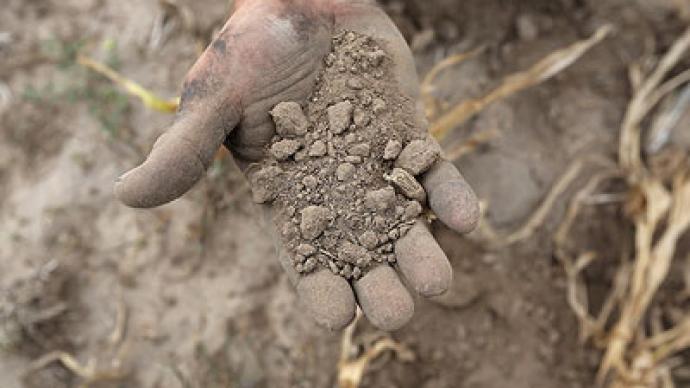 Thousands of US homes are in critical disrepair as the country continues to suffer from this summer's record-breaking drought. And the damages are unlikely to be paid by insurance companies.
­As moisture is sucked away from the ground, houses are shifting, cracking and racking up huge repair bills for surprised homeowners – bills that insurance companies rarely ever cover.
Some repairs have topped $100,000, causing some homeowners to plunge into financial catastrophe as they try to make ends meet.
"I had retired," 70-year old Carol DeVaughan, who is facing more than $25,000 in repairs, told the Associated Press. "I guess I'll keep working."
In 40 out of the 48 mainland states, drought-related home damage has already occurred. The cost is likely to surpass $1 billion as Americans try to fix tilted living rooms and displaced walls. Basements are particularly vulnerable to cracking, but damage is affecting all areas of housing that touches the ground.
"It's very common right now to walk around the outside of somebody's home and see gaps in the soil wide enough to put your fist in," Jason Courtney of the repair firm Helitech told AP.
Repairs are often costly, involving more than just patching up the cracks on the walls. Repairmen are often required to install piers underneath the afflicted houses to help them withstand shifts in the soil.
Kansas resident Scott Knoche is facing a $50,000 repair bill for installing 33 piers at $1,000 each, a new driveway, sidewalk and landscaping. This summer, his back deck sank ten inches into the ground, and the rooms in his house began to tilt by up to four inches.
To help prevent houses from cracking, homeowners are being advised to keep the soil around their foundations moist and to spread mulch to slow moisture evaporation.
"As soon as you see cracks or doors and windows stuck, it's best to get a reputable company out there to look at it," Courtney said. "The longer you go, the more expensive it's going to become."
The $1 billion damage to American homeowners is adding to the already-costly effects of this summer's drought. Farmers are suffering $18 billion in losses from destroyed crops, and taxpayers may have to pay $10 billion to help with the recovery. Additionally, the US government has already paid farmers $9 billion so that they're able to afford crop insurance premiums.
And with summer coming to an end, the drought is still expected to continue – even after Hurricane Isaac brought rain to some southern states.