US plans to destroy Syrian chemical weapons onboard ship in international waters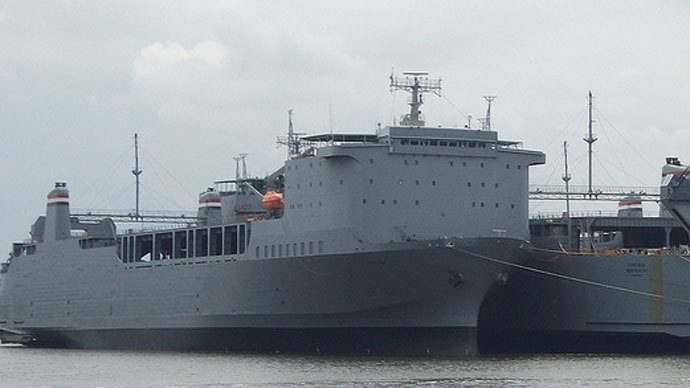 As the end-of-the-year deadline for destroying Syria's most dangerous chemical weapons lingers closer, American officials are reportedly considering a plan that calls for dragging roughly 1,290 metric tons of hazardous materials into international waters.
With the option of destroying Syria's stockpile on land raising the likelihood of potentially serious diplomatic and security concerns occurring, United States officials are now considering an effort that would rely on relocating the warheads out to sea, where they would then be neutralized onboard an American ship.
Reporters at the Associated Press said Thursday that unnamed US officials have been discussing the possibility with President Barack Obama, whose administration helped broker a deal earlier this year that calls for the deadliest of Syria's weapons to be destroyed by December 31.
The AP said the plan has yet to be approved, but would likely involve outfitting the Virginia-based MV Cape Ray with a special chemical weapons neutralization system that could be deployed in international waters to degrade recovered warheads to a condition that would keep them from being further enriched for weapons use in the future.
According to the recent deal reached amid a years' old civil war, Syria's most toxic chemicals, like sarin and mustard gas, must be removed by the end of the year. From there, authorities will have until the end of next June to destroy the rest of President Bashar al-Assad's stockpile, the full scope of which remains unknown.
But as Naftali Bendavid wrote for the Wall Street Journal on Friday, however, "a nation's entire chemical arsenal has never before been removed from its borders, and the challenges are just now becoming fully apparent." Indeed, many nations around the world urged Syrian authorities to relinquish their stockpile earlier this year amid warnings from the Obama administration that the US would reprimand Assad's regime if he refused to take action. Now as the looming deadlines approach, the US is looking to carry out a grand feat for the first time ever, the likes of which might require more effort than once imagined.
In addition to containing the tons of chemical weapons, the US will have to safely transport the warheads onto a ship and then patrol it safely into international waters without incident. Once there, of course, American officials will then be tasked with destroying, or at least neutralizing, those chemicals, likely with the aid of a technique that has never once been tested in a real life situation.
Only this past June did the US Department of Defense roll out its Field Deployable Hydrolysis System (FDHS), a complex but portable system of machinery designed by the Army's Edgewood Chemical and Biological Center in Maryland to destroy chemical agents in bulk.
"The FDHS neutralizes chemical agents by mixing them with water and other reagents like sodium hydroxide and sodium hypochlorite and then heating them to produce compounds that are 'not usable as weapons," Colin Dunjohn wrote for GizMag only two months ago. "This heating and mixing process to facilitate chemical reactions purportedly has destruction efficiency of 99.9 percent."
Even if that's the case, however, the Pentagon has yet to put the FDHS to the test. DoD spokeswoman Jennifer Elzea told Defense News around the same time that the military had just recently "developed a transportable chemical weapons destruction system designed to fill a gap in the national capability to destroy US bulk chemical agents, wherever they are found," but the Syrian crisis would mark the first time that technology is put to the test in a legitimate situation.
According to Defense News, it takes a crew of around 15 people to operate the FDHS, which can neutralize as much as 25 metric tons of chemicals per day. The FDHS can be up and running with 10 days of arriving on cite, the outlet added, which in this case will likely be somewhere far away from any nation-state's borders. The AP reported that the MV Cape Ray is currently in the Mediterranean Sea, but authorities will need to move operations into international waters to avoid incident.
Meanwhile, other nations approached for help in disposing of the chemicals have reportedly already shot down those requests. According to the Wall Street Journal, Norway, Albania and Belgium have all declined requests for assistance.
You can share this story on social media: