Cable giants dealt potential win against TV startup Aereo by US govt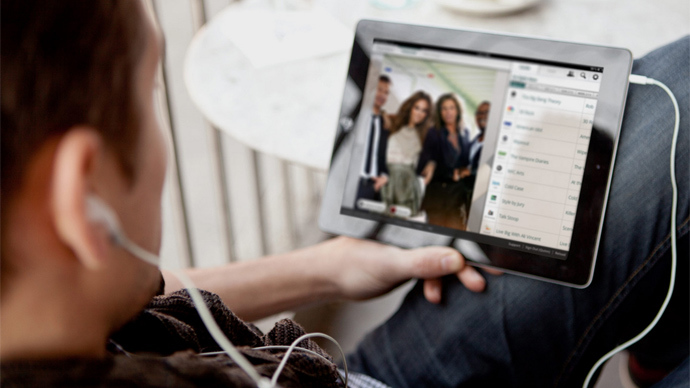 The US Department of Justice has announced it supports major American broadcasters – including CBS, Disney, Fox, and PBS – in a looming court battle against a smaller company that makes the content broadcast on those channels available to stream online.
Aereo is a two-year-old startup company that has drawn the ire of major media players because it transmits their broadcasts via tiny antennas. Customers pay no more than $12 a month for the service, which comes with a cloud-based digital recorder. Aereo does not pay licensing fees to the broadcasters and has attracted a customer base from across the country, in part because the fees are much lower than the average cable bill.
The company is partly funded by Barry Diller, a former media executive with ties to Fox and the USA Network.
Last year, federal courts in New York and Boston sided with Aereo's argument that the company is legally transmitting "private performances" to individual customers on their own leased antennas. That rationale is based on a 2008 Cablevision decision which permitted remote-storage DVR technology.
In February, though, an Ohio federal judge ruled in favor of the broadcasters and the case will now go before the US Supreme Court in late April. The decision will certainly have a major impact on how media consumers enjoy their content in an increasingly digital world.
Now, the Justice Department has filed an amicus brief urging the court to recognize that Aereo is "clearly infringing" on the copyrighted content of broadcasters.
Government attorneys claim that a function of the cloud-computing service is to offer consumers "more numerous and convenient means of playing back copies that the consumers have already lawfully acquired," as quoted by the Guardian. However, Aereo's service "enables subscribers to gain access to copyrighted content in the first instance – the same service that cable companies have traditionally provided."
The National Football League and Major League Baseball have also filed briefs supporting the broadcasters. The cable companies, in their petition to the Supreme Court, asserted that Aereo is "merely making tens of thousands of simultaneous 'private' performances to its subscribers."
"This petition presents questions of copyright law that profoundly affect, and potentially endanger, over-the-air broadcast television," the petition argues. "For decades, it has been settled law that third parties, such as cable and satellite operators, must obtain authorization to retransmit over-the-air broadcasts of television programs to the public. The broadcast television industry has invested billions of dollars producing and assembling high-quality and creative entertainment and news programming in reliance on this legal regime, which prevents retransmission services from free-riding on broadcasters' investments and provides broadcasters with incentives for further investment and innovation."
Aereo is available to customers in New York City, Boston, Atlanta, Salt Lake City, Miami, Houston, and Dallas, and has announced its intention to expand into a number of other metropolitan areas. The stakes are high for the young company, but CEO Chet Kanojia said he remains confident because of the 2008 Cablevision decision and because of his hope that the Supreme Court will recognize the precedent at stake.
"The biggest impact would be on cloud computing in general, and specifically, cloud-based storage services," he told Time magazine. "Here's an example. You recorded a show off of your antenna and you'd like to be able to watch it on any device you want. The same goes for a piece of music or an e-book. It doesn't really matter where the media is, the statute covers everything."
"Then you say I'm going to take all this stuff that I legitimately acquired, because I have the right to [receive] broadcast television and I purchased this song and I purchased this e-book, and I put it in my Google Drive, which is a cloud-based storage solution," he went on. "Then I chose to stream it to myself whenever I want. That would be deemed illegal if Aereo is not legal."
You can share this story on social media: