​Make the money, make the laws: Congress has more millionaires than ever - report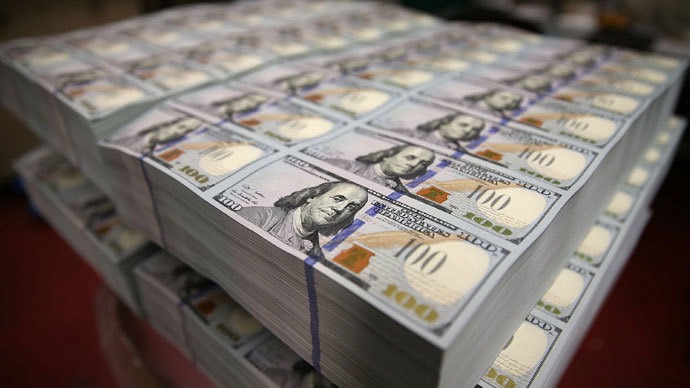 The most unproductive and least popular US Congress in history can count on another distinction: For the first time ever, most members of the Legislative Branch are millionaires.
At least 268 of the 534 current members of the 113th US Congress have an average net worth of US$1 million or more, according to personal financial disclosure data members registered last year on 2012 net worth, the Center for Responsive Politics reported Thursday.
In 2011, only 48 percent of members had a median net worth of at least $1 million. That number is just over 50 percent for 2012.
The median net worth in 2012 for the 530 current congressional members who were in Congress as of the May 2013 filing deadline was $1,008,767, up from $966,000 in 2011. The totals represent a 5.8 percent net-worth increase for all members.
Net worth for Republicans and Democrats went up 10.3 percent and 11.6 percent, respectively.
For all members of the House of Representatives, net worth increased 4.6 percent, from $896,000 to $856,000. House Democrats and Republicans both saw increases, at $929,000 and $884,000, respectively.
In the Senate, there was a 10.8 percent increase in net worth overall. Median net worth for all senators went up to $2.794 million from $2.5 million. For Senate Republicans, the median net worth went up to $2.9 million from $2.5 million. Senate Democrats, on the other hand, saw a decline, at $1.7 million from $2.4 million.
That decrease can be explained in part by wealthy senators no longer in the upper chamber. John Kerry, now Secretary of State, was the wealthiest member of the Senate in 2011, with a net worth of $248 million. Sen. Frank Lautenberg was worth $87.5 million before his death last year.
Republican Darrell Issa, chairman of the House Oversight Committee, is the richest member of Congress, with a net worth of $464 million in 2012.
Issa, who made his fortune in the car alarm business, had held the top spot for years before 2011, when fellow House Republican Michael McCaul reported a net worth of $500.6 million. For much of his wealth, McCaul can thank marrying the daughter of Clear Channel Communications Chairman Lowry Mays.
Yet McCaul's reported wealth in 2012 went down to $143.1 million. The drop exemplifies a rule change the House adopted this year from the Senate in which members reporting high-value assets, income and liabilities that belong to spouses are only required to report that wealth as being worth "$1 million or more" on official filings. McCaul's wife was reportedly worth over $50 million in his 2011 filings. In 2012, that amount was reported as a "spousal asset over $1 million" despite the likelihood that it is much more.
Though more members of Congress are millionaires than ever, and their median net worth is tops all-time, the total net worth for all lawmakers in 2012 actually fell to $3.9 billion from $4.2 billion in 2011.
The Center for Responsive Politics found that investing in the stock market, after declining for several years with congressional members, is again on the rise. More members invested in the top 50 stocks of 2012 than in 2011, with General Electric and Wells Fargo being the two most popular for investment.
Financial powers like Bank of America and JPMorgan Chase, among others, make up most of the top 10 congressional investments. Mutual funds and managed portfolios are also popular, based on good returns and the ability for members to avoid blatant conflicts of interest.
Pew Research Center reported in December that the 113th Congress (2013 to 2014) was the least productive Congress in its first year. Gallup reported in November that the 113th was the least popular Congress of all-time, with a 9 percent approval rating.
"Despite the fact that polls show how dissatisfied Americans are with Congress overall, there's been no change in our appetite to elect affluent politicians to represent our concerns in Washington," said Sheila Krumholz, executive director of the Center for Responsive Politics. "Of course, it's undeniable that in our electoral system, candidates need access to wealth to run financially viable campaigns, and the most successful fundraisers are politicians who swim in those circles to begin with."
You can share this story on social media: