UN approves no-fly zone over Libya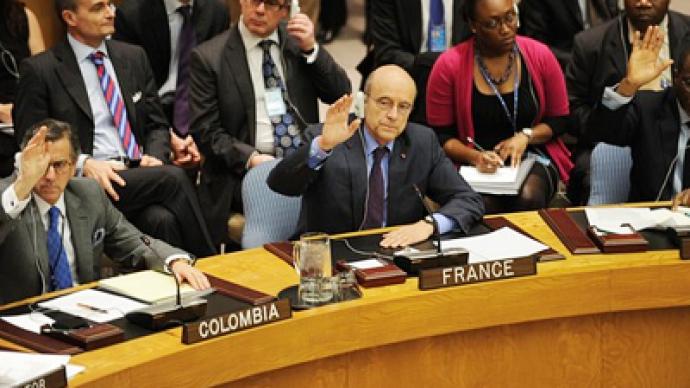 Security Council resolution imposes a no-fly zone in Libya and calls for "all necessary measures" to protect civilians. Though it's not clear who will enforce this decision.
The United Nations Security Council (UNSC) has voted on a resolution authorizing a no-fly zone over Libya and calls for "all necessary measures" to protect civilians in the country. Ten of the Security Council members, including the US, voted for a resolution draft prepared by the United Kingdom, France and Lebanon. Five member countries – Russia, China, India, Germany and Brazil – abstained. There were no votes against the resolution, which gives it a "green light". It's pretty obvious the phrase about "all necessary measures" in the resolution indicates the possibility of military intervention to Libya. Although, it's not clear who is going to enforce this decision. According to some leaks from the US Department of Defense, the US is not going to take a lead in this operation. Instead it's expected the European allies; the UK and France in particular, will contribute the most. A few hours before the vote, French Foreign Minister Alain Juppe said that his country is ready to take an active role in this operation. "We want to stop the attacks by the Gaddahfi regime against civilian populations. And it's a question of days or hours because the pressure against Benghazi, especially, is now very tough".Meanwhile, Libyan military loyal to Colonel Muammar Gaddafi continue preparations for an attack on the key opposition stronghold, the city of Benghazi. The Colonel himself urged citizens of Benghazi to lay down their arms and leave the city. The Libyan defense ministry on Thursday, before the vote, warned any military intervention in Libya would endanger air and sea traffic in the Mediterranean Sea.In a statement released by the state-run Jana news agency, the ministry said that both civilian and military targets in the Mediterranean will be attacked.
You can share this story on social media: