Umbrellas banned at Occupy Seattle protests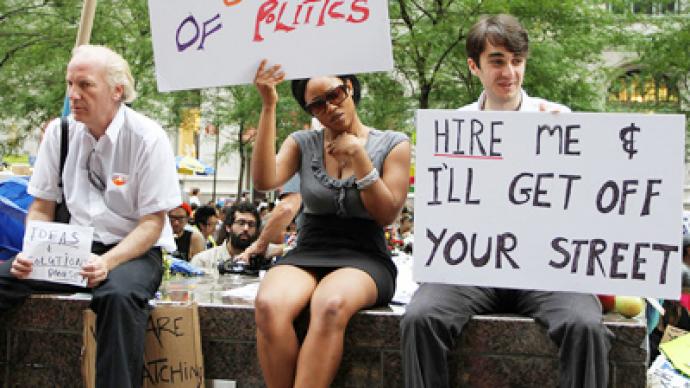 "Seattle Washington" typically fires up two things in the minds of Americans: Kurt Cobain and rainy weather. It's been ages since the grunge icon passed away, but the rain is still there. For protesters with Occupy Seattle, this could mean trouble.
Seattle police have been telling demonstrators with the Occupy Seattle movement that they are going to have to put up with the rainy weather if they want to continue their protests. Umbrellas, say the Seattle PD, are a cause of concern.Seattle paper The Stranger has published confirmations this week that police officers patrolling the protests at the city's own variation of the spreading Occupy Wall Street movement are telling demonstrators that they are going to have to forgo umbrellas even in the rainy weather that has become a hallmark of Seattle."You can't have an umbrella open unless you're standing and holding it," Seattle's The Stranger reports from the city's Westlake Park. That is the message that police officers are telling the drove of demonstrators that have been braving the weather to help protest corporate greed 3,000 miles from the Lower Manhattan protests that began four weeks ago.Cops are cautioning protesters that an umbrella all by its lonesome is considered a structure, and that's a no-go in Seattle's Westlake Park. The city is weary that makeshift tents will be constructed out of umbrellas and other gear, so they are telling demonstrators that they are going to have to remain upright and attentive — or otherwise soaking wet.A spokesperson for the Occupy Seattle Police adds that "You can have umbrellas but someone must be holding them at all times, if left unattended they are considered to be structures"Though officials are saying that the structure-rule is the impetus for the ban, reporters say that Seattle is doing more to keep protesters out in the rain. "The cops are lined up under the awnings — I tried to get under an awning to type . . . and they told me I cannot be under the awning at all," journalist Paul Contant reports to Seattle PI. A blog on the website also confirms that the PD has been telling demonstrators that they can't take refuge underneath thin plastic tarps, either. Sleeping bags and blankets, albeit soaking wet ones, are just fine, however.Since soaking Seattleites have begun complaining of the unfair actions of the city, Mayor McGinn has issued an official statement clarifying the intent of the Seattle PD. "As for umbrellas, police were concerned that protest participants were using umbrellas and tarps to create makeshift tents to evade the no-camping rule.But no one has been ticketed or prohibited from using an umbrella at Westlake.They remain (and hopefully always will remain) legal in Seattle," says the mayor. Meanwhile, however, protesters are still being told they can't have them — they just aren't being fined or cuffed for it yet.While the mayor has not come out to explicitly offer his support to the Occupy Seattle moment, his statement goes on to suggest that the city is oaky with the demonstrations, as long as the protesters keep the movement organized and legal. McGinn writes that the city is fine with people exercising their First Amendment rights, but the city has a very strict no-camping rule at Wesklake. "If we permit camping at Westlake for one group, no matter how worthy the cause, we will be obligated to permit camping at Westlake for any group that wishes to do so as a form of speech.That is simply not an appropriate use for Westlake," says the mayor. As a result, Mayor McGinn has offered up Seattle's City Hall as a venue for camping. This is why we have made City Hall, a civic building that is a locus of political speech, available for camping.Anyone who wants to stay warm and dry can do so at City Hall plaza.On Monday, demonstrators were yet to relocate the Occupy City protest to City Hall, but have shown little signs of giving up. Protests have been continuing in cities across America, big and small, for over three full weeks now.
You can share this story on social media: