TSA fires tens of agents
Published time: 19 Oct, 2012 20:20
Edited time: 20 Oct, 2012 00:20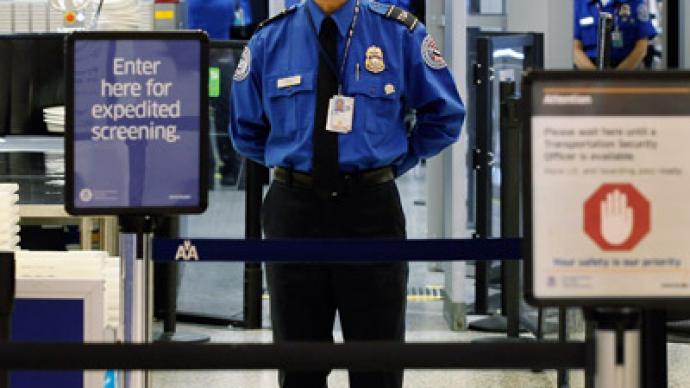 TSA on Friday proposed firing 25 of its employees and suspending 19 for failing to properly screen checked luggage. The action comes as a result of a year-long investigation prompted by reports of theft in a New Jersey baggage room.
A year-long investigation found Transportation Security Administration employees, including managers, at the Newark Liberty International Airport to have violated baggage screening procedures. A surveillance camera installed in one of the airport's 25 screening rooms found the employees failed to properly screen checked baggage before flights departed. The camera was put in place and the investigation was initially  launched to check for possible thefts, but no such charges were ever filed.
What began as a search for theft turned into a probe of the negligent screening procedures exercised by TSA agents. Last November and December, hidden security cameras found that dozens of screeners did not even physically search bags that had been flagged by X-ray machine operators.
The employees were moved from their jobs in the screening room and given non-screening duties pending the completion of the investigation.
The 44 employees now facing termination or suspension, combined with eight dismissals at the Newark airport in June, mark the largest action in the personnel history of the TSA, the Star-Ledger reported. The 52 terminated or suspended employees surpass the 48 that faced the same consequences last year at Honolulu International Airport for failing to properly screen luggage. Newark Liberty Airport currently employs about 1,400 personnel.
Those facing suspension would be required to stay home, without pay, for up to 14 days.
"The decision to take disciplinary actions today with the proposed removal of 25 individuals and suspension of 19 others reaffirms our strong commitment to ensure the safety of the traveling public and to hold all our employees to the highest standards of conduct and accountability," said TSA spokeswoman Lisa Farbstein.
The 44 employees have the right to appeal their cases.
The American Federation of Government Employees, a union that represents some of the employees, is trying to have some of the employees reinstated.
"The charges right now seem to be improper screening of bags, which we don't feel is correct," Stacy Dodtmann, the group's regional vice president, told the Washington Post. "We feel they performed their jobs to what they were trained to do."
The union has one week to respond to the TSA's proposal before the employees will face the consequences outlined in the document.