Tropical Storm Isaac scares both GOP delegates and protesters in Tampa
As Tropical Storm Isaac made its way along the Florida coast, GOP delegates and protesters were both scared to leave their homes, delaying the Republican National Convention and keeping protesters quiet or indoors.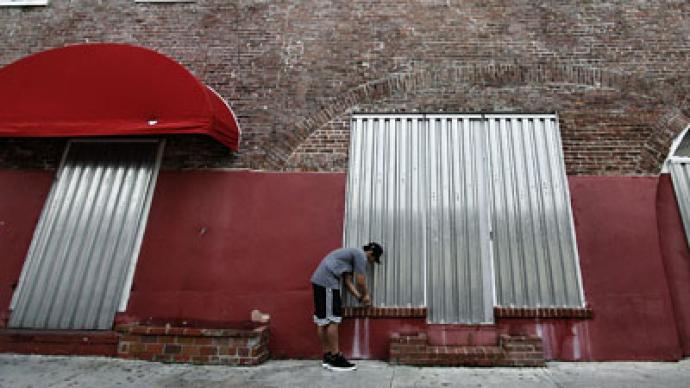 While the RNC scheduled start date was moved by one day, protesters – including unionized labor members and supporters of the Occupy Wall Street movement – put on an underwhelming demonstration. While wind from the tropical storm muted the sounds of their protests and drenched their signs with rain, the small groups of several dozen to several hundred protesters did not match the thousands that showed up during the 2008 RNC and wrecked havoc by smashing cars, puncturing tired and throwing bottles.This year, Congress provided $50 million in security, without being able to foresee the effects of the tropical storm.For months leading up to the convention, protesters had prepared for scores of people to come together the day before the convention began to publicize their message, but the winds, heavy rain and flood alerts seemed to have kept many indoors."A lot of people were afraid to come out because of the approaching rain and thunder," protester Sarah Kilker told the Associated Press. Those who showed up said they hoped more people would have come.
Tropical Storm Isaac churned its way across the Gulf of Mexico on Monday and is now on its way toward New Orleans, with an expected strike date seven years after Hurricane Katrina left the city in ruins.While the tropical storm just barely hit Florida, it is predicted to strengthen into a hurricane while in the Gulf of Mexico."The weather is going to go downhill well in advance of that and that's why today is the day of preparation," NHC director Richard Knabb told CNN. Knabb warned against coastal flooding and a storm surge up to 12 feet across Louisiana, Mississippi and Alabama on Tuesday and Wednesday.Governors from the three endangered states have declared a state of emergency, causing residents in the roughly 300-mile stretch along the Gulf Cost to worry."The timing of this storm coming on, as fate would have it, on the anniversary of Katrina, has everybody in a state and sense of alertness, and that is a good thing," New Orleans Mayor Mitch Landrieu said on Sunday. Residents in areas most likely to be affected by the hurricane have started to stock up on supplies and secure their homes. Supermarkets in Gulfport, Mississippi attracted large crowds as people bought large quantities of bottled water and canned food.Tropical Storm Isaac's winds reached 65 mph (105 kph) Monday morning. If it reaches 74 mph, it will be classified as a Category 1 hurricane."With winds of that strength, one of the greatest concerns is storm surge, where the water will be moving ashore, blown in by the winds," said National Hurricane Center forecaster Ed Rappaport.
In 2005, Hurricane Katrina came with winds over 157 mph, but Isaac is expected to top off around 90 or 100 mph when it hits land.The storm has so far killed at least 20 people in the Caribbean, including some in Haiti, where it passed over on Saturday. While it just barely grazed Florida, it still forced hundreds of flight cancellations in and out of Miami and Fort Lauderdale."I sense a high level of anxiety," Landrieu said."It is difficult to realize that to the day – seven years after Katrina – another hurricane is headed our way," said Mississippi Governor Phil Bryant.Even though Isaac did left Tampa mostly with rain and high winds, the city's GOP delegates, protesters, and residents are largely staying indoors as they wait out the bad weather.
You can share this story on social media: