Stand your ground law still there one year after Trayvon Martin's death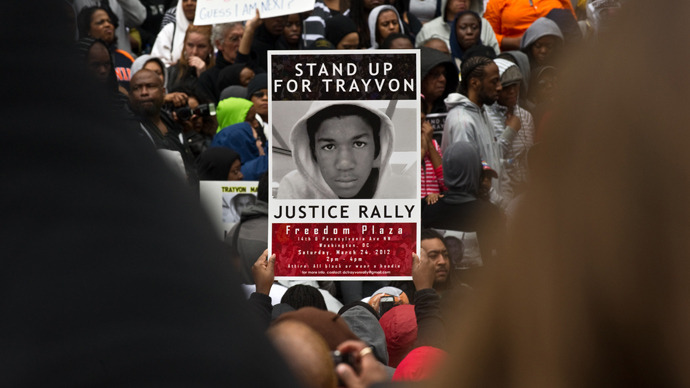 One year after Trayvon Martin was fatally shot by a neighborhood watch coordinator, the "stand your ground" law continues to remain in place, allowing Americans to use deadly force against anyone they believe is a threat against their lives.
The controversial law was heavily condemned in the wake of the Feb. 26, 2012 shooting, in which 28-year-old George Zimmerman fatally shot 17-year-old Martin in the chest. Zimmerman claims that after he approached the unarmed teenager, the boy attacked him, prompting him to shoot in self-defense.
Under the "stand your ground" law, Zimmerman initially avoided arrest. The case against him is still ongoing, but some legal experts believe that the Florida legislation could protect him from prosecution.
"Stand your ground" laws, which were drafted and promoted by the National Rifle Association (NRA), were adopted in Florida in 2005 and have since been enacted in more than 20 US states. The laws allow US residents to use lethal force against an attacker – even if a retreat is possible. Most US states allow residents to fatally kill anyone who attacks them in their own home, but the "stand your ground" law takes this a step further, allowing Americans to use deadly force against attackers in public places.
The law has allowed people to get away with murder, even when deadly force was unnecessary. In 2009, an argument broke out at a party in Fort Myers. One man fired his gun into the ground and beat the other man, who afterwards walked to his car to find his own gun, only to return to the party and fatally shoot his attacker three times. Even though there was an opportunity to leave the scene, the shooter was able to escape any sort of homicide prosecution.
"This law gives people more leeway than I had on the battlefield as a United States Marine," Allie L. Braswell, president and CEO of the Central Florida Urban League, told Yahoo! News. "When I was engaged in Iraq… we cold not fire until fired upon."
Similar cases have occurred all throughout regions where the "stand your ground" laws have been implemented. The number of such cases is increasing as defense attorneys continue to find ways to apply the vague legislation to help their clients.
"It's arising now in the oddest of places," Ed Griffith, a spokesman for the Miami-Dade State Attorney's Office, told the Tampa Bay Times.
"If you're a defense counsel, you'd be crazy not to use it in any case where it could apply," Zachary Weaver, a West Palm Beach lawyer, told the paper. "The more publicity the law gets, the more individuals will get off."
After Martin's death, civil rights advocacy groups launched a campaign to repeal the "stand your ground" laws called "Second Chance on First Shoot". But despite the large-scale publicity and condemnation of the laws, none of the state laws have been repealed or altered.
On the contrary, the Florida task for last Friday released a recommendation claiming that the law is effective and that it should not be repealed. And in the wake of the Dec. 14 massacre in Newton, Conn., lawmakers have largely forgotten about "stand your ground" and moved on to federal gun control initiatives instead.
On the one-year anniversary of the shooting of Trayvon Martin, nothing has been done to change or clarify the controversial "stand your ground" laws, and Zimmerman's attorneys plan to ask the court to dismiss all charges under the law.
You can share this story on social media: