Revenge for Trayvon: Elderly man beaten for being white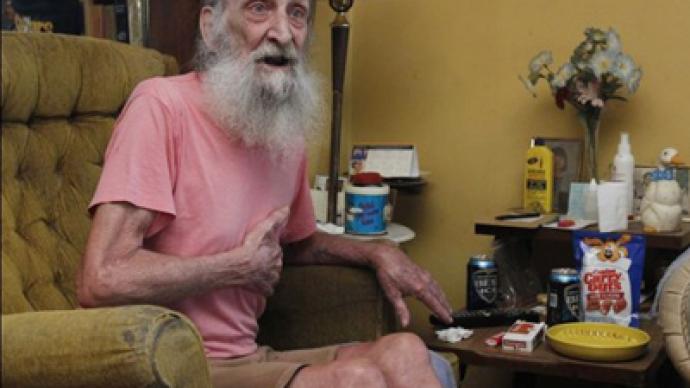 A 78-year-old Ohio man says he was beaten almost to the point of death by half a dozen teenagers who sought revenge in the killing of Trayvon Martin.
Dallas Watts of East Toledo, Ohio says he was accosted by six youths on his way home from the store over the weekend and could have died from the ambush had passersby not stopped to intervene. According to Watts, who is white, the teenagers took it upon themselves to attack him in retaliation for the killing of 17-year-old Trayvon Martin, a black high schooler from Florida that was shot to death this February. Trayvon's killer, George Zimmerman, has not been charged in the crime, although authorities continue to look into whether the shooter is justified in his claims of self defense.Watts says that both black and white kids, ranging from ages 11 to 17, were responsible for the attack this weekend that almost took his life. Police have arrested three suspects so far in the case.According to Watts, he was singled out while walking home on Saturday because of the color of his skin. After he heard one of the suspects say, "take him down," Watts remembers asking the group, "Why you picking on me? Remember Trayvon?""All I meant by saying 'remember Trayvon' is to remember what happened to him, don't duplicate it here," Watts tells a Fox News affiliate in Toledo.Watts recalls that the youths responded to him with a remark that went something like: "This is for Trayvon … Trayvon lives, white [man]. Kill that white [man]."As authorities broaden their investigation into this weekend's incident, they have yet to determine a clear motive in the attack. Since Watts' wallet and credit cards were not stolen, however, they are considering ruling out the event as an attempted robbery. "I have heard that there were some comments made, some racial comments made, but that we're still investigating," Toledo police Sgt. Phone Toney tells The Blaze. "We can't really confirm that one way or the other at this point. We still have not talked with Mr. Watts yet. We're going to be talking to him a little bit later."Since the pork rinds Watts had purchased before the attack were stolen in the incident, two of the three youths apprehended have been charged with robbery; a third has been pegged with a disorderly conduct charge."I meant [the reference to Trayvon Martin] in a peaceful way," Watts adds to the Fox station."What happened to Trayvon, I was not responsible for, I live 1,000 miles away! But they kept saying, 'Kill him! Kill Him! Kill him!' because I'm a white man." "You don't pick somebody's body up off the sidewalk and let somebody else give him a lick to kick the ribs," he adds. "That was malicious intent. That was a hate crime and I want them punished for it!"A rally was held earlier that day outside of the Toledo Board of Education in order to raise awareness of Trayvon Martin's death as supporters of the slain teen continue to press authorities to charge Zimmerman in the murder. Martin was killed on February 26 in Sanford, Florida by Zimmerman, who says he was acting in self defense.
You can share this story on social media: