Reset button in US-Russian relations doesn't work – Russia's NATO envoy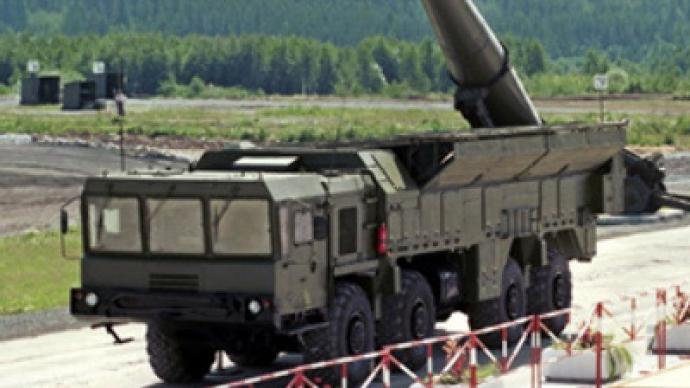 Russia's envoy to NATO Dmitry Rogozin has cooled Transdniester's eagerness to locate Russian missile system on its territory, warning that such steps could only worsen the current state of affairs.
"Such situations could lead to a rather serious regional conflict. In regard to whether Iskanders should be deployed there or not, Iskander missiles are not the means to be used in such talks," said Rogozin.
Earlier on Monday, Moldova's unrecognized republic of Transdniester said that it's ready to host a Russian Iskander operational-tactical missile bases (SS-26 by NATO classification) to counterbalance US anti ballistic missiles in Romania if Moscow were to ask.
"We have been asking for Russia's permanent military presence in the republic. We are not against any type of Russian military presence with any kind of armament that is needed to protect the security of the citizens of Transdniester, Russia and Ukraine," said Transdniester's President Igor Smirnov on Monday, during his visit to Moscow for talks on bilateral relations.
Commenting on the Transdniester offer, Dmitry Rogozin also added that there could be no talk yet of bilateral efforts to "reset" Russian-US relations if Moscow continues to find out about the United States' plans to locate missiles in Eastern Europe from mass media: "How can we talk of a true partnership with Washington if we read unpleasant news in the newspapers?"
Earlier in February, NATO member Romania approved a US plan to deploy American SM-3 interceptor missiles on its territory. The US State Department said that such systems will be in operational readiness in Romania by 2015. Besides this, plans to host American ABMs in Bulgaria are also being discussed. The Russian Foreign Ministry has asked Bulgaria for clarification of its plans by asking a rather rhetorical question: "Why is it that, after the Romanian surprise, a Bulgarian one follows?"
However Russia's envoy to NATO thinks that there is too much excitement around the deployment of American antiballistic missiles in Europe, saying that the most important thing now is not to threaten each other with missiles, but to understand what the true purpose of the United States' ABMs is.
Moldova's reaction
Moldova's Foreign Minister Yury Lanke, commenting on Transdniester's offer, expressed hope that, before making any decisions on this front, Russia would consult with Moldova.
"All questions concerning Russian-Moldovan bilateral relations should be discussed in a dialogue between Chisinau and Moscow", said Yury Lanke, adding that Chisinau is confirming its interest in developing close political and economic ties with Russia.
Moldova's vice-premier Viktor Osipov was more critical in his reaction to Transdniester's offer, saying that the republic is "ready to deploy anything on its territory, even the Black Sea Fleet". He also thinks that US missile plans in the neighboring Romania don't pose any threat to Moldova's security.
The head of the Democratic Party of Moldova, Marian Lupu, thinks that the Transdniester leader is simply making those statements to gain political weight ahead of the upcoming elections in the unrecognized republic. In addition, he thinks that by making such offers to Russia does Moscow more of a hindrance than a help.
Observers' opinions
Political analyst Mikhail Troitsky thinks that Transdniester made the statements to demonstrate one more time its loyalty to Russia. "Just as how Romania and Bulgaria, by agreeing to locate US missile defense systems, want to develop closer ties with the US, Transdniester wants to get Moscow's support," he said. Troitsky also thinks that the president of the unrecognized republic made those statements to strengthen his position in the domestic political battles with the local opposition.
Ruslan Pukhov, director of the Center for Analyses of Strategies and Technology, is convinced that Russia will not consider deploying its Iskander facilities in Transdniester, saying, "Even though Transdniester is one of Russia's allies in the post-Soviet space, Moscow would not deploy its Iskander missiles there. It doesn't need to; primarily because, from my point of view, the US ABMs in Romania in its current form do not pose any threat to Russia's security."
Military analyst Vitaly Shlykov thinks that those statements are no more than Transdniester's desire to tease Moldova and to demonstrate its fidelity to Moscow. "Transdniester is like an elephant in a zoo. Well, who would really ever deploy defense systems in an unrecognized republic? Russia would never do it and wouldn't jeopardize its good relations with Moldova. I would not even expect an official reaction from Moscow to such a statement. It would be absurd to even comment on such a thing," the analyst commented.
Reference
The breakaway republic of Transdniester proclaimed its independence from Moldova in 1990. However the international community has not recognized its self-declared statehood, and its relations with Moldova remain tense. However, Transdniester has always retained close ties with Moscow. More than 120,000 of Transndiester's residents (about a quarter of the whole republic's population) hold Russian passports.
You can share this story on social media: