US makes first step toward banning trans fats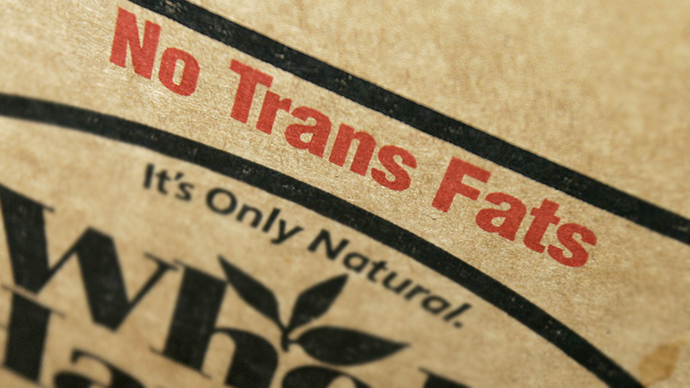 The Food and Drug Administration announced on Thursday that it would require the food industry to phase out the use of artificial trans fats in its products.
The FDA said it has made a preliminary determination that the primary source of trans fat – partially hydrogenated oils – is no longer "generally recognized as safe," and that it plans to ban their use in the market. Some trans fat is naturally generated in meat and dairy products, and the ban will only apply to trans fat added to foods.
According to FDA Commissioner Margaret Hamburg, the decision could potentially prevent 20,000 heart attacks a year and 7,000 deaths.
Over the last decade, American consumption of trans fat has declined significantly. In 2006, the average citizen was consuming 4.6 grams of trans fat a day, while the number decreased to roughly one gram a day in 2012. Still, Hamburg said they "remain an area of significant public health concern," according to NBC News.
Many companies began eliminating the use of trans fat when the FDA required them to list the ingredient on nutritional labels in 2006, but it can still be found in common products like frozen pizza, microwave popcorn, margarine, coffee creamer, and various desserts.
"The artery is still half clogged," Dr. Thomas Frieden, the director of the Centers for Disease Control and Prevention, said to the New York Times. "This is about preventing people from being exposed to a harmful chemical that most of the time they didn't even know was there."
"It's quite important," he added, referring to the FDA's new proposal. "It's going to save a huge amount in health care costs and will mean fewer heart attacks."
Numerous studies have shown that there is virtually no health benefit to consuming trans fat. It lowers the level of "good" cholesterol and raises levels of "bad" cholesterol, clogging the arteries and increasing the risk of heart attacks.
The FDA did not lay out a timetable for the ban. It will open its proposal to public comment for 60 days while it formulates a schedule that gives food manufacturers enough time to cooperate with the new rule.
"We want to do it in a way that doesn't unduly disrupt markets," Michael Taylor,  the FDA's deputy commissioner for foods, said to the Associated Press. At the same time, he said the food "industry has demonstrated that it is by and large feasible to do."
Public health groups have welcomed the FDA's proposal, which the agency has been collecting data for since 2009.
Should the FDA move forward with its plan, the United States will join other nations such as Denmark, Iceland, and Switzerland, in banning the ingredient.
Still, there are numerous other ingredients that have been outlawed in various countries while still being sold in the U.S. An, article by BuzzFeed over the summer noted that brominated vegetable oil, which has been linked to birth defects and organ damage, continues to be used in sports drinks and the popular soda Mountain Dew. It's been banned in more than 100 countries.
Meanwhile, synthetic hormones rGBH and rBST, linked to cancer and infertility, continue to be given to cows and show up in dairy products that aren't labeled otherwise. They've been banned in Japan, Canada, New Zealand, Australia, and the European Union.
Earlier this month, the FDA banned three out of the four brands of arsenic-laced animal feed that was being given to chickens, turkeys, and pigs. The decision came four years after the Center for Food Safety called on the FDA to remove the feed, but one brand remains on the market.