Hazmat: New Jersey train derails, toxic spill reported in creek (PHOTOS)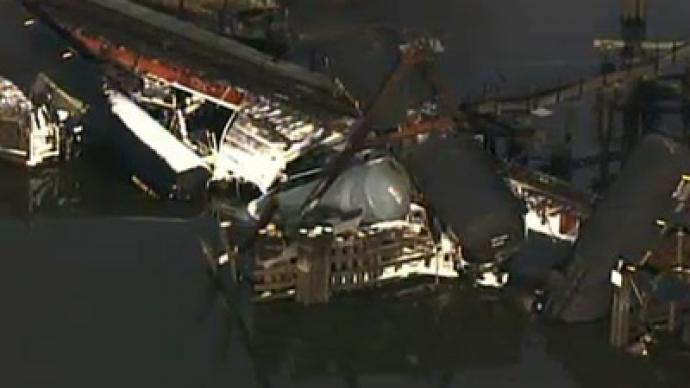 A freight train derailment in southern New Jersey has caused a spill of vinyl chloride. Four tank cars were dumped into Mantua Creek, Paulsboro, on Friday and at least one of them is leaking the hazardous material, report local media.
­Over 40 people are being treated at Underwood-Memorial Hospital, most having complained of breathing problems, according to spokeswoman Karen Urbaniak. She said 11 have been transported by ambulance while 31 others walked in. Some of the patients are workers from the Paulsboro Marine Terminal. The condition of all the injured is stable.

At least four of the cars on the bridge contained vinyl chloride with another was hauling ethanol, authorities said after hazardous materials crews finished their initial investigation.

The US Coast Guard was also notified as the chemical might have leaked into the nearby Delaware River. Booms have been placed in the creek as a precaution to contain about 180,000 pounds of the hazarrdous materials that leaked.

Paulsboro residents were urged to stay indoors and keep their windows and doors closed, while a number of people in the immediate area were evacuated. Assemblyman John Burzichelli has told journalists that the air is safe and residents are free to move about.

­Vinyl chloride is a colorless gas with a sweet odor that is easily ignited. The federal Environmental Protection Agency lists the gas as a Group A human carcinogen. It is used to make polyvinyl chloride (PVC) plastic and vinyl products. Short-term exposure to high levels of vinyl chloride in the air has an effect on the central nervous system and can cause drowsiness, dizziness and headaches.
The incident took place just after 7am local time (12pm GMT), Gloucester Office of Emergency Management confirms. By midmorning, all of the hazardous gas had dissipated into the air.
"It appears that all of the vinyl chloride that was in the particular car has dissipated," said Larry Hajna of the New Jersey Department of Environmental Protection. "There's no more release going on."
"There is no environmental emergency," department spokesman Larry Ragonese also told CNN.
Officials notice there is a risk that some additional chemical could be released into the air when the train is moved. Removal is expected to take place no earlier than Friday night.
It is not yet clear what exactly caused the 84-car train to derail, but images from the scene show a train bridge collapsed and at least two cars that had plunged into the creek, one of which was seen hanging over a trestle. This is not the first time the same bridge has been the epicenter of a major incident. In 2009 it already caused a derailment; in 2010, the bridge was rebuilt.
Paulsboro Borough with around 6,000 inhabitants is just over the river from Philadelphia. The area of the incident is described as very industrial though there are some homes as well as Paulsboro High School and Billingsport Elementary School.

Roadways leading into the borough were closed following the incident. Paulsboro School District is also on lockdown, which means that students who are already there must stay there while students who have not got to school should stay home.
Screenshot from nj1015.com
Screenshot from nj1015.com
Screenshot from nj1015.com
Screenshot from nj1015.com
Screenshot from nj1015.com
Still from AP video
Still from AP video