Student, 10, arrested for having toy gun in backpack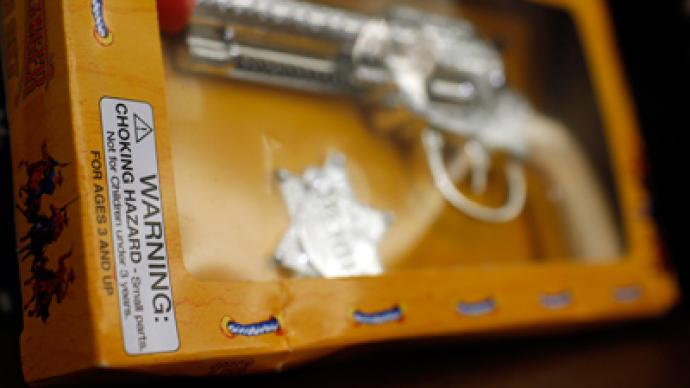 School administrators in Virginia suspended a 10-year-old boy earlier this month after he was caught with an orange-tipped toy gun in his backpack. Now as he awaits his next meeting with his probation officer, his mother opens up about the incident.
Nakicha Gilbert tells the Washington Post that "it was a toy" in her son's backpack and nothing more when it was confiscated out of his bag on February 4. Two weeks later, she is still in disbelief over what the entire event has done for her son, herself and the community.When the gun in question was discovered by a fellow student earlier this month, that child told her parents that she was frightened by the firearm, prompting an email to be sent throughout the school community. According to Ms. Gilbert, outrage was what most parents seemed to feel. They thought her son had "a real gun in there and he was waving it around and ready to kill the whole school," she tells her Post. But now as her son awaits an upcoming court hearing and has had an official dossier opened up by the local police department, the outrage has only increased.Just one day after her fifth-grader's toy gun was discovered on a school bus leaving Douglas MacArthur Elementary School in Alexandria, Virginia, his mom says he was arrested, dragged to court and questioned, photographed and fingerprinted."Any time we get a call like this, we take it very seriously until we can determine the extent of the weapon, if it's real or not, and what the student intends to do with it," Alexandria Police Department spokesman Jody Donaldson told the Washington Examiner after the boy's arrest. Today, though, Donaldson admits that things may have been a bit different had the authorities taken a breath before they rushed to respond."If we were able to investigate right away, the outcome might have been different," she tells the Post. Ms. Gilbert agrees and thinks authorities acted a little too overzealously. Even the mother who first reported the gun that her daughter saw on an Alexandria school bus tells the paper, "It's such a bad handling of the situation, it was ridiculous."But now in a span of just two weeks, the boy has been forced to switch schools and has been entangled in a legal nightmare surely to serve as a thorn in the side of his family for years to come. That, of course, isn't even taking into consideration what sort of effect the entire incident will have on the boy, who now has a record with local authorities. "This is how kids get caught up in the system," she tells the Post.Tina Hone, founder of Northern Virginia's Coalition of The Silence, says the fifth-grade boy has been unfairly criminalized in the case. Adding to the Post's report, Hone calls the response to the clearly fake toy gun "an over-the-top reaction.""How can you go from a toy gun to a criminal charge and a probation officer?" she asks the paper.
You can share this story on social media: