Tornadoes devastate America's south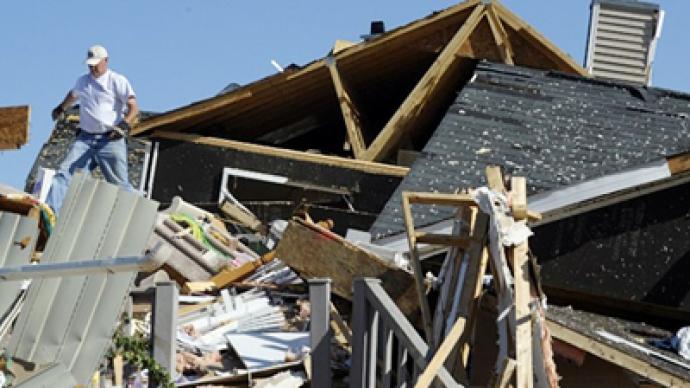 Dozens of tornadoes touched-down across the southern states destroying homes, schools, and killing at least 214 people in the deadliest swarm of tornadoes in almost 40 years.
When many of the people in Alabama, Mississippi, Tennessee, Georgia, Virginia and Kentucky venture outdoors they see the wreckage of what was once their homes and community. "It happened so fast it was unbelievable," Jerry Stewart, old retired firefighter told AP. "They said the storm was in Tuscaloosa and it would be here in 15 minutes. And before I knew it, it was here."Stewart and his family survived by hiding underneath the house's porch. Their neighbors however were not as lucky. The retired firefighter found himself back in action, forced to pull-out the bodies of friends from the wreckage of their home. According to the National Weather Service's Storm Prediction Center people on the ground reported 137 tornado sightings. The service is working to confirm an accurate count. "When I looked back, I just saw trees and stuff coming by," said Mike Whitt. The onslaught of tornadoes devastated the communities they hit. Homes and schools destroyed. Electricity and communications lines knocked out. Farm lands, small businesses and other means of earning a living were damaged or destroyed. People's furniture and other personal belongings have been scattered far and wide.US President Barack Obama has approved the use of federal emergency assistance. "Our hearts go out to all those who have been affected by this devastation, and we commend the heroic efforts of those who have been working tirelessly to respond to this disaster," Obama said in a statement.The storm followed an earlier string which also brought tornadoes to the south, killing 10 people. A few weeks prior to that a smaller group of tornadoes also passed through the region destroying homes and businesses.
You can share this story on social media: