Pentagon finishing top-secret space mission of mysterious X-37B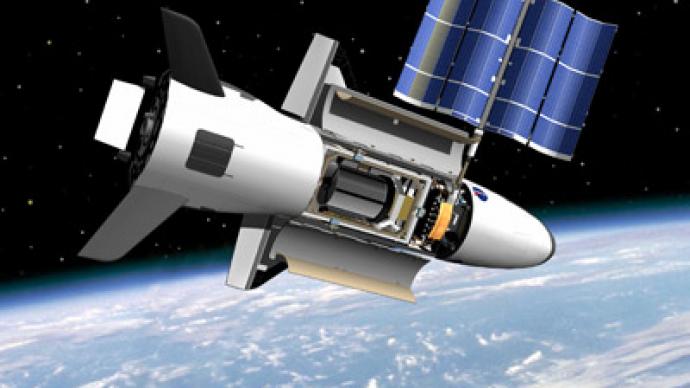 The US Air Force has announced that its top-secret X-37B spaceplane is expected to land back on Earth this month after over a year in orbit. What purpose the craft serves, however, remains known to only Uncle Sam.
The Pentagon plans to end its 15-month mission of the X-37B Orbital Test Vehicle later this month, but that likely won't change much in terms of what Americans are told about the mysterious space-age marvel. Aside from a few basics, the US Air Force has kept most information about the 29-foot-long, solar-powered, Boeing-made aircraft under wraps since it was launched on March 5, 2011 from Cape Canaveral, Florida. In the meantime, it has been circling Planet Earth at around 17,000-miles-per-hour and is now expected to land at the Vandernberg Air Force base in California. The Air Force has not yet set a touch-down date yet and is evaluating expected weather conditions for throughout the month."The men and women of Team Vandenberg are ready to execute safe landing operations anytime and at a moment's notice," Col. Nina Armagno, commander of the 30th Space Wing, says in a statement released on May 30.The X-37B was initially scheduled to exit orbit in December, but its mission was extended by the Pentagon with little explanation. When news was released back then of the lengthened mission, US Lieutenant-colonel Tom McIntyre told the Los Angeles Times, "We initially planned for a nine-month mission. Keeping the X-37 in orbit will provide us with additional experimentation opportunities and allow us to extract the maximum value out of the mission." As for what that mission is, however, remains almost entirely a mystery.According to a briefing made public by the US military's Vanderberg, California air base, "More information will be released as it becomes available." So far, however, the X-37B has been in orbit for over 400 days with the Pentagon refusing to publically address its mission. The details of the operation have been kept classified and are being managed by the US Air Force Rapid Capabilities Office. That isn't to say, though, that curious minds haven't considered the options. The Daily Mail reports out of the UK that many critics have considered the spaceplane's top-secret mission to involve spying on Chinese intelligence with surveillance cameras miles above the Earth, although skeptics of that theory have shot down the allegations. The Mail adds in their report, however, that amateur astronomers have tracked the craft's orbit to have gone past North Korea, Iraq, Iran, Pakistan and Afghanistan since being first launched.
You can share this story on social media: