Chicago radioactive waste facility shutting down amid safety scandal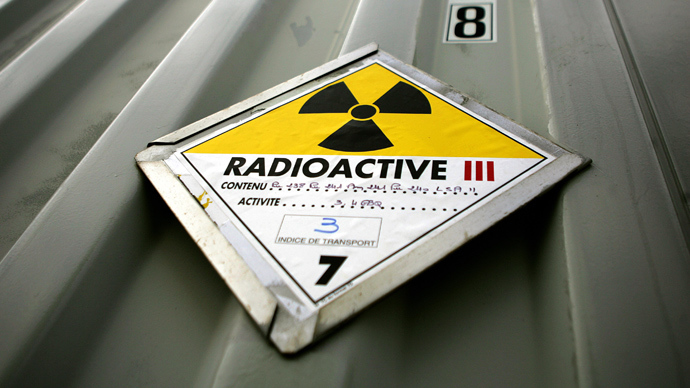 A radioactive waste disposal facility near a small residential neighborhood outside Chicago was found guilty of multiple, potentially hazardous violations and will reportedly be shut down.
Complaints waged by the likes of both local and federal regulators allege that Tinley Park, Illinois' ADCO Services, Inc. inappropriately stored potentially hazardous waste for several years longer that they were supposed to, and time and time again they were warned by officials for their seemingly rampant disregard of the rules.
According to Chicago's WLS-TV, ADCO racked up 70 violations and at least $212,400 in fines over the course of 20 years due to an array of safety and financial snafus that had the potential of becoming possibly catastrophic.
"ADCO is supposed to store radioactive waste for less than 180 days, but instead kept it there for years -- some more than a decade," investigative journalist Chuck Goudie reported for the ABC affiliate this week. WLS-TV now reports that Tinley Park, Illinois' ADCO Service, Inc. is being shut down, but an end to the business may be too little, too late.
The company advertises on their website that they have been in the business of radioactive and hazardous waste disposal since 1965, but that lengthy tenure in the Chicago suburb of Tinley Park — population 57,000 — has been hardly without incident. Goudie recently investigated the company's history, and in the process he turned up an array of serious, potentially catastrophic violations, nearly all of which ended up below the radar of the local media for ages up until now.
One resident of Tinley Park told Goudie that he had no idea what was happening at the ADCO facility in his neighborhood, and he's likely not the only one unaware that the company has been silently disposing of supposedly low-level radioactive waste there for decades. Presumably even less likely then would be finding a Tinley Park resident who has lived quietly alongside such facility, knowingly aware that the building has been the site of several violations, the likes of which have prompted reprimands from the Nuclear Regulatory Commission's federal officials.
According to Goudie, ADCO takes in radioactive byproducts from hundreds of local producers each year, collecting the materials and then transporting it to an off-site dump or other final resting place. Between the time of collection and the eventual disposal, the Tinley Park facility could contain any which type of waste product, ranging from self-luminous exit signs and radioactive animal carcasses, to smoke detectors and hazardous waste disposed of by doctors. ADCO hasn't always abided by the rules with regards to storage such materials, though, and has ended up in hot water because of it.
"They were storing the waste longer than they should have been, they were accepting waste when they shouldn't have been," Michael Klebe of the Illinois Emergency Management Agency told WLS.
Klebe told reporters that the IEMA attempted to bring ADCO "back to compliance" by going through a number of administrative procedures, but that in his opinion there was never any imminent public safety threat or concern. State officials also tell the network that "an immediate threat to public health or safety" was never present, but the violations uncovered by their reporters suggest ADCO Services was far from par with respect to playing by the rules.
After speaking with Klebe, Goudie and company collected state records through Freedom of Information Act requests which showed the full scope of ADCO's violations.
"In 2004, ADCO overlooked the training requirement for its housekeeping staff, allowing uninformed janitors to work around radioactive material. In 2007, contaminated items were shipped to a scrap yard in Cicero, where the radiation monitor was tripped. In 2008, the facility even reported a radioactive contamination incident and still kept its license. In 2011, one of the company's managers pleaded guilty to stealing scrap metal from the business and selling it," Goudie reported. "So, despite 70 violations and more than $200,000 in fines during 20 years, the state of Illinois allowed ADCO to operate with radioactive material."
But according to RT's own cyber-sleuthing, ADCO's failure to abide by the rules didn't stop just there. RT has uncovered NRC documents from both 2005 and 2013 in which ADCO was alleged to have neglected to pay thousands of dollars' worth of fees necessary to hold on to a materials license pursuant to the Atomic Energy Act of 1954. In 2005, for example, the NRC ordered ADCO to pay more than $17,000 in late fees or else have their license immediately revoked, and as recently as September 11 of this year ADCO was again threatened with similar ramifications for being more than $20,000 behind payment.
Additionally, a document from the IEMA dated this January claims inspectors had found a number of safety violations which even trump the financial concerns raised by the NRC. The state's inspectors accused ADCO in that letter of failing to produce proof of a radioactive material license, as well as "several other violations," including failure to conduct required surveys to evaluate the radiation hazard present; failure to use engineering procedures to reduce radiation exposures; failure to monitor exposures to individuals to detennine compliance with occupational exposure limits and failure to maintain associated record.
Four months later in April, the NRC noted that ADCO had failed to appoint a qualified individual to act as their Radiation Safety Officer, or RSO, to which the company apologized for in an August letter where they acknowledged they "inadvertently overlooked notifying your agency" of personnel changes.
According to Goudie at WLS-TV, however, that might not be the worst of it. With ADCO being accused of holding onto low-level nuclear waste for upwards of decades without relinquishing it to a proper disposal site, thousands of pounds of leftover nuclear waste that needs to be transferred elsewhere has accumulated within their Tinley Park facility. Goudie reported that state emergency management officials are now searching for a new vendor to move those materials, but since the disposal of nuclear waste is legally the responsibility of its producer, ADCO's old clients may soon be asked to foot yet another bill.
You can share this story on social media: