Violent but careless New York gangs thwarted by social media evidence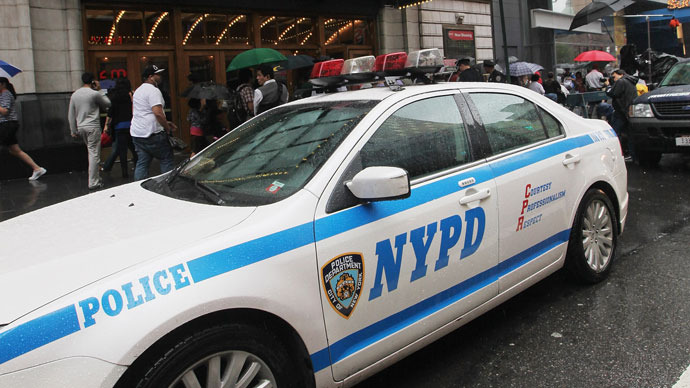 Street gangs in the midst of turf battles may want to rethink their Facebook privacy settings. New York officials who announced the indictment of 63 members of three rival street gangs say messages posted to social media were critical as evidence.
The three gangs - known as Air It Out, True Money Gang and Whoade - began a tit-for-tat series of violent reprisals in New York's East Harlem section following the 2009 shooting of three members of True Money Gang, which resulted in one fatality. Over the next three years, the three gangs were linked to at least 10 additional shootings and two additional homicides.
NYPD Commissioner Ray Kelly credited the city's monitoring of social media channels like Facebook in successfully launching the indictments of what are referred to as three of Manhattan's most violent gangs.
"Social media remains a double-edged sword in our crime-fighting strategies. It is used by crew members to brag about past crimes, taunt rivals and incite violence. On the other hand, we use social media to document past crimes and intercept new ones being talked about openly by crew members on Facebook, Twitter and YouTube."
According to the documents released by the NYPD and the District Attorney's office, hundreds of Facebook and Twitter posts, text messages, cell phone videos and calls made from the Rikers Correctional Facility provided evidence of gang members plotting deadly assaults on their rivals.
Surprisingly, members of the gangs were fairly open in communicating with one another over open channels, coordinating firearms trafficking as well as warning one another of potential police action. And though gang members used code when communicating with one another, the language was simple enough for the NYPD to pick apart and decipher.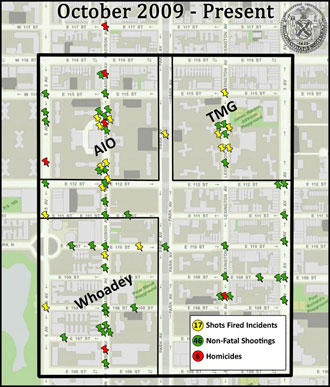 One gang member, for example, was arrested after using a phone while in prison and saying, "
I went over there, you know, and played the flute twice
," meaning he had shot someone twice.
The indictment announcement itself shed light onto an otherwise insular world for these gang members, who codify essentially all of their illegal activities:

A gun is a 'biscuit,' 'blamer,' 'clickety,' 'drum set,' 'flocka,' 'girlfriend,' 'grip,' a 'flamingo' or a 'sandwich.'

If a member posted needing "electricity for the 2 and 5 train" this meant he was out of ammunition for his .25-caliber pistol.
Cops are 'boys.' A shooting is 'playing the flute,' 'popping a bottle' or 'dumping it on.'
And murdering someone is 'rocking them to sleep early.'
The three street gangs operated in close proximity to one another, managing to turn  a ten-block radius of East Harlem into a veritable war zone. One gang member  managed to compare the turf war to exactly that via a Facebook post.
"I'm 2 Glocks strapped, rolling down 112th Madison, 116th this is the New Iraq," one gang member boasted on Facebook.
The indictments follow a three-and-a-half-year investigation by the New York District Attorney's Violent Criminal Enterprises Unit, which recently dismantled another three Harlem gangs.