Texas to execute Mexican despite Obama's plea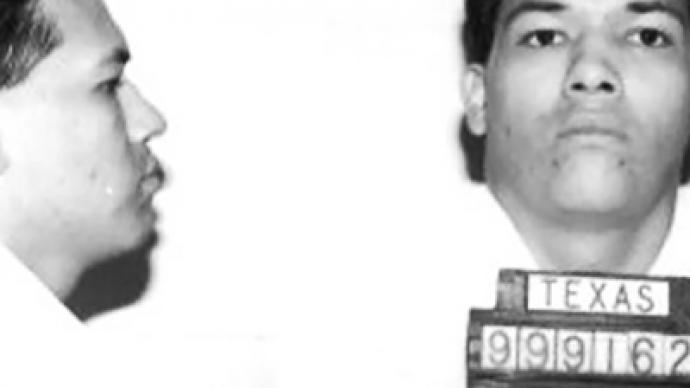 A Mexican national awaiting lethal execution in a Texas prison may be allowed to live a little longer, if the Obama administration has its say, that is.
Humberto Leal has been on death row ever since he was sentenced for the rape and murder of 16-year-old Adria Sauceda of San Antonio in 1994. It wasn't until years after he was convicted, however, that Leal learned that he could have sought legal assistance from the Mexican government. Leal had been born south of the border and moved to America as a toddler.The Obama administration asked Texas to delay the execution on Friday, with Solicitor General Donald Verrilli Jr saying that "This case implicates United States foreign policy interests of the highest order." An international treaty between nations would guarantee Leal the right to contact Mexican consulate upon arrest, though he was never allowed that chance.Leal is now waiting to see if the Supreme Court will temporarily block the state-sanctioned execution while the case is investigated."There can be little doubt that if the government of Mexico had been allowed access to Mr. Leal in a timely manner, he would not now be facing execution for a capital murder he did not commit," said Leal's attorneys in a clemency request to the Texas Board of Pardons and Paroles last week, reports the AP.The Obama administration argues that Congress needs to think about the impact of legislation that would allow federal courts to go over cases of condemned foreign nationals to see if consular help from their native countries could make a difference in their case. Verrilli adds that compliance with international treaties would be quite beneficial to US citizens convicted abroad.A 2006 ruling of the Supreme Court said that foreign nationals that were not made aware that they could seek consular assistance after an arrest may not raise legal challenges after a trial. Two years later, the Supreme Court shut down a decision of the International Court of Justice that would order the States to "review and reconsider" the cases of 51 Mexican convicts are facing executions, including Leal. The court said that the Vienna Convention on Consular Relations legislation was not a binding domestic law, and thus couldn't be used to overcome state rules on post-conviction challenges. 172 countries have ratified the Consular Relations legislation, however, though the US application of the Consular Regulations does not quite bring the nation into compliance.High-ranking officials argue that America should abide by the Consular Regulations, though, as Americans imprisoned outside of the country — including those detained in Mexico — could face grave consequences, much like Leal does here, if the United States doesn't sign on.Texas Governor Rick Perry has been pushed by congressional members to put a hold on the punishment while an investigation opens up. The governor has the power to use a one month reprieve while the courts look over the case. State officials seem hesitant to budge for the feds, however. "Texas is not bound by a foreign court's ruling," Katherine Cesinger, press secretary for Texas Governor Rick Perry, has said. "If you commit the most heinous of crimes in Texas, you can expect to face the ultimate penalty under our laws," she adds.President George W Bush spoke about the case of Leal back in 2005, saying an International Court of Justice ruling that Leal and 50 other Mexican-born inmates nationwide should be entitled to new hearings to determine if their rights were violated at the time of their arrests. Bush was overruled by the Supreme Court, however."Congress has had the opportunity to consider and pass legislation for the federal courts' review of such cases since 2008, and has not done so each time a bill was filed," responds Cesinger.While on trial, prosecutors linked bite marks on the body of Sauceda with Leal and revealed that the Mexican man came home shortly after the murder occurred with a bloody shirt. Leal's brother also testified that Leal admitted to the murder after it took place.Leal, however, testified that he was drunk at the night of the murder but was not responsible for the murder.Prosecutors say Leal bit, strangled, raped and murdered the teenager back in 1994 after a party that both parties attended separately. He was the last person seen with Sauceda and was arrested shortly after. Sauceda's mother, Rachel Terry, tells CNN affiliate KSAT that "A technicality doesn't give anyone a right to come to this country and rape, torture and murder anyone, in this case my daughter."If the Supreme Court doesn't step up — or Perry doesn't issue a reprieve — Leal is scheduled to be executed later today, Thursday.
You can share this story on social media: