Texas governor Perry signs restrictive abortion bill into law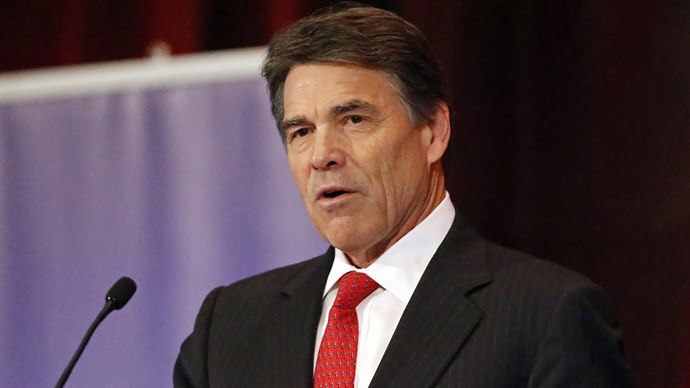 Texas Gov. Rick Perry has signed one of the nation's most restrictive and controversial abortion bills into law, despite weeks of heated protests in the Lone Star State's capital.
Perry signed the contentious legislation at a ceremony on Thursday morning, thereby drastically reducing access to abortions across the state.  About 20 protesters stood solemnly outside the Capitol, wearing black instead of their usual orange t-shirts. The group of activists held sheets of paper spelling out "S-H-A-M-E."
But the protesters were barred from entering the capitol auditorium where Perry signed the measure. The seats were reserved solely for invited guests, staff members and the press, many of which commended the bill's passage. 
"It was truly the hand of God," Rep. Jodie Laubenberg (R-Parker), who sponsored the bill, said of the legislation's success at the signing ceremony. 
"It is happy, celebratory day," Perry told the crowd of more than 100 people. "It is our responsibility to give voice to the unborn… It is also our responsibility to protect the health of women."
The auditorium erupted in applause, but outside the room, protesters chanted in heated opposition to a bill that has generated stark controversy for weeks. "Shame! Shame!" the activists shouted, which could be heard from inside the auditorium.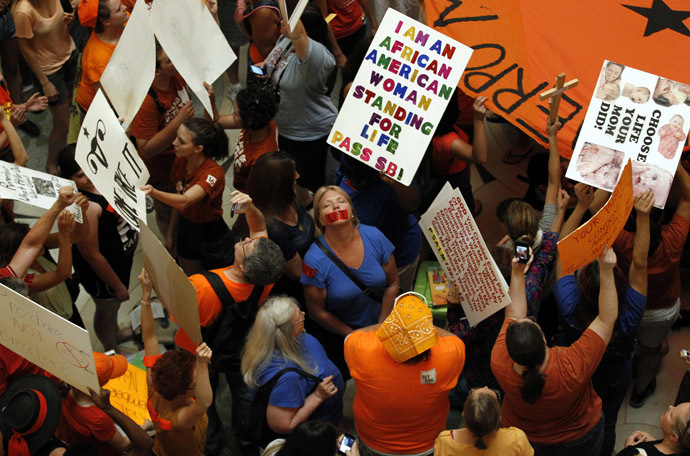 House Bill 2 outlaws abortions after 20 weeks of pregnancy, which is four weeks earlier than the Supreme Court's landmark decision in Roe v. Wade. Previously, abortions in the state of Texas were legal up to 26 weeks of pregnancy.
New regulations set by the legislation would also close down 37 of the state's 42 health clinics for women, leaving open just five clinics in the country's second most populous state. The bill requires clinics to become ambulatory surgical centers in order to perform any abortive procedure. 
State Sen. Wendy Davis (D-Fort Worth) staged an 11-hour filibuster during the first special session, effectively delaying the vote. But after Perry called a second meeting to ensure a vote on the bill, the legislature passed the measure with majority Republican support. Sen. Eddie Lucio (D-Brownsville) was the only Democrat to vote for the bill. 
Pro-choice advocates held protests for weeks, the most dramatic of which took place during Davis' filibuster on June 25. Pro-choice activists generally wore orange t-shirts, while pro-life activists wore blue.
Critics argue that by shutting down most abortion clinics in the state, the legislation would make it difficult for low-income women to travel to faraway clinics and force them to instead seek dangerous back-alley abortions. With a limited number of clinics, the cost of an abortion is expected to triple.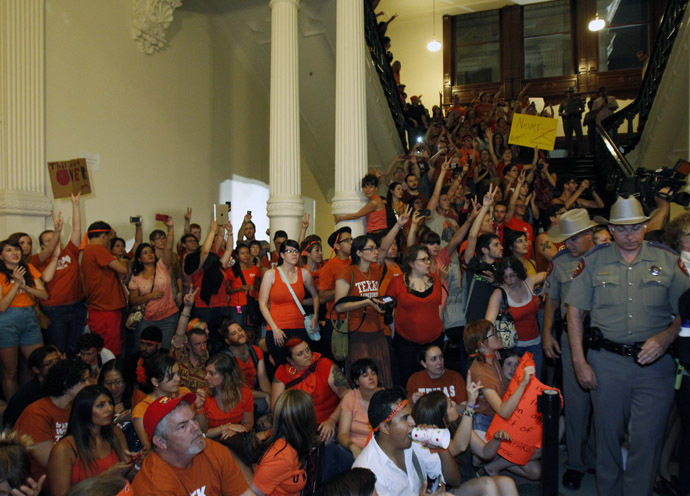 Cecile Richards, president of Planned Parenthood, on Thursday condemned Perry for limiting women's' ability to acquire an abortion in the state.

"The bill signed into law by Governor Perry today makes a terrible situation for women's health even worse," Richards told the Washington Post. "Already, Rick Perry and other politicians have cut more than 130,000 Texas women off from basic preventive health care, including lifesaving cancer screenings and well-woman check-ups, and this new law will severely limit access to safe and legal abortion, which will cause women to resort to desperate and dangerous measures."
Pro-choice Democrats and reproductive rights organizations, including Planned Parenthood and the American Civil Liberties Union of Texas, have vowed to challenge the law's constitutionality in court. Lawsuits challenging House Bill 2 would most likely be based on the Roe v. Wade Supreme Court rulings, which concluded that states cannot create substantial obstacles to women seeking abortions.
"The next battle is going to be a court challenge. Immediately. Without question," State Sen. Royce West (D-Dallas) told the Huffington Post last week. "As soon as it's signed by the governor, it's going to be challenged."
The law is scheduled to go into effect in October.
You can share this story on social media: