Teaching the Tea Party to pre-teens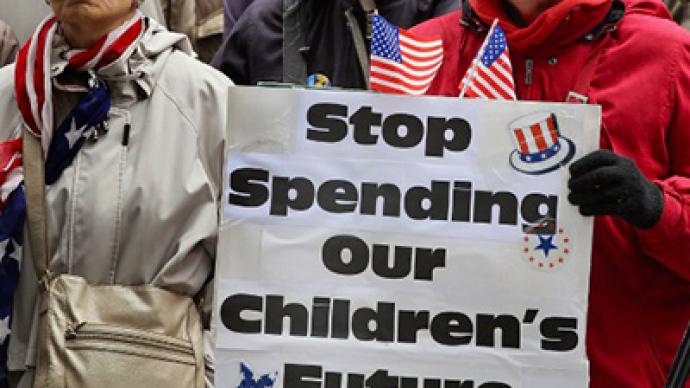 Tea Party parents of America, listen up: has trying to teach your children that the government can't force them to be charitable become too cumbersome of a chore? Worry no more!
The Tampa Liberty School will instruct kids ages 8-12 this summer all about the evils of socialism, the power of God and the importance of individual freedom. Conservative writer Jeff Lukens is spearheading the project, which has room for 40 children to enroll in a week-long morning program that will be hosted within a Christian school on the Gulf Coast of Florida. "We want to impart to our children what our nation is about, and what they may or may not be told," Lukens tells the St. Petersburg Times. Eight parents have already signed their pre-teens up at a fee of only $15 for the program, which will run July 11-15.In addition to introducing children to principles such as "America is good," "I believe in God" and "I work hard for what I have and I will share it with who I want to," Lukens intends on spreading the real meaning of the USA with the help of volunteers from the Tampa 912 Project, a Glenn Beck-backed Tea Party affiliate. "We want to impart to our children what our nation is about, and what they may or may not be told," he says.Lukens admits to not knowing much about public school curriculum, but does say that their political correctness and the absence of God in the syllabus just isn't right. "We are a faithful people, and when you talk about natural law, you have to talk about God. When you take that out of the discussion, you miss the whole thing," he says. A statement on the school's website notes that they want pupils "to have an experience that instills in them understanding, appreciation, excitement and enthusiasm for the liberty we enjoy in America." According to Lukens, this will be accomplished through a series of reenactments and hands-on exercises. In one instance, children will win hard candy to be used as currency, and then exchange it to a "baker" for paper money. Will students "fall" for the scam as their paper money loses value over time? "Some of the kids will," Lukens tells the paper. "Other kids will wise up."Learning about the Gold Standard has never been so fun.Lukens also says a game involving squirt guns and bubbles of soap suds will be quite revealing to the tykes. "What they will find out is that you can do a lot more with individual freedom," he says. With squirt guns, of course.On his Tampa 912 Project profile, Lukens says, "Our country is in peril. This is a time when all conservatives must get off the couch and be counted."It looks like it's never too soon to become a statistic. Even a right-wing one.
You can share this story on social media: