'Syria chemical footage' revealed as pressure mounts within US ahead of vote
Published time: 8 Sep, 2013 14:30
Edited time: 8 Sep, 2013 15:44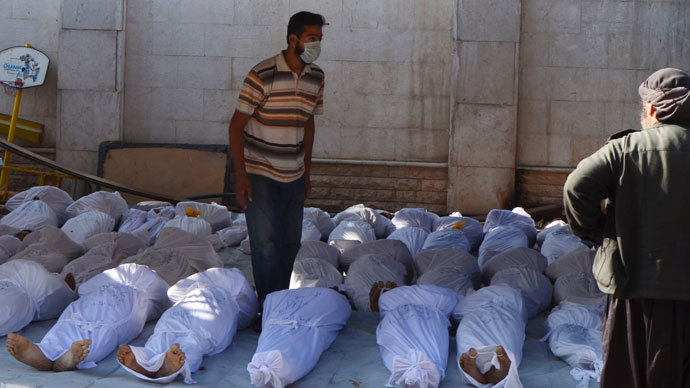 As the day draws near for the US Congress to review President Obama's request to back a Syria military strike, CNN reveals video shown to Congress to sponsor the strike, while opponents of the aggression rally on the internet and take to the streets.
The outcome of the voting next week is far from certain. Obama's administration and legislators advocating military action are flying in the face of a war-weary American public, more than half of whom are against being drawn into yet another Middle Eastern war, a Washington Post-ABC News poll showed.
Opponents are vocal and are bombarding their representatives with emails and phone calls demanding that they oppose the possible aggression. For some members of Congress voter pressure is decisive, like Michael Grimm who initially supported the Syrian intervention, and then flip-flopped.
Another pro-strike lawmaker, Brad Sherman, told the Washington Post: "I don't know a member of Congress whose e-mails and phone calls are in favor of this".
The last weeks have also seen a series of anti-war rallies both in the US and in some other countries. Activists in New York were carrying signs which read, "No more wars for corporate profit" and "Cut the Pentagon, not food stamps."
The activist group MoveOn.org seeks to bolster the trend by airing a 30-second ad, which calls on Americans that they should petition Congress, unless they want another Afghanistan or Iraq. "Don't lead us down this road again," the commercial says.
MoveOn says the ad will air this week on MSNBC, with a heavier rotation around Obama's planned address to the nation Tuesday night, in which he is to explain his position on Syria.
Drums of war
Lobbyists from the pro-attack camp are also gearing up. The influential American Israel Public Affairs Committee will deploy hundreds of activists next week to promote military action.
"We plan a major lobbying effort with about 250 activists in Washington to meet with their senators and representatives," an AIPAC source told Reuters on Saturday.
Moves to sway public attention from the ramifications of attacking Syria to the moral duty of doing so are coming through other sources as well. CNN aired footage on Saturday of the alleged Syrian government sarin gas attack.
Warning: GRAPHIC video

The news network stressed that it could not verify that the graphic images of people, who appear to have been poisoned with a nerve agent, were indeed those caused by the apparent chemical weapon attack on August 21. But the footage in various videos had been shown to select members of Congress on Thursday by the Obama administration, which said the intelligence community had provided them and confirmed their authenticity.

Many of the videos were among those uploaded to the Internet in the wake of the incident.
"That video will sensitize the American people that this isn't just an intervention, that this is a military strike to stop that type of atrocity," former US Ambassador to the UN Bill Richardson told CNN.
False flag
The US insists that the government of Syrian President Bashar Assad is responsible for the attack, which, Washington estimates, killed more than 1,400 people near Damascus. The view was publicly shared by countries like Turkey and Saudi Arabia, which support US military action against Syria, as well as by many EU counties that also blame Damascus, but are hesitant to embrace military action.
However, other countries, including Russia and China, are doubtful. Russia's President Putin stated in unambiguous terms that Moscow believes the August 21 killings to be a provocation by the rebel forces, which is aimed at dragging America into the Syrian war.
Obama said in March that use of chemical weapons by Assad's troops would be a red line, after which the US would be compelled to act. The deadly August incident came just as a team of UN inspectors were investigating cases of previous alleged use of chemical weapons in Syria.
Suspicions that the latest chemical deaths could be a false flag operation were earlier used by a group of former US military and intelligence professionals, including former NSA Senior Executive and whistleblower, Thomas Drake. The intelligence assessment, which the White House released to back its accusations against the Assad government, has been fixed around policy rather than based on facts, they said in a letter to Obama.
They add that as early as August 13-14 the Syrian rebels were instructed to prepare "a major, irregular military surge" with a major escalation in the conflict expected. They were told that a war-changing bombing of government forces was coming and received large amounts of weapons, and that they would need to exploit the opportunity, the letter said.
"We choose to assume that you have not been fully informed because your advisers decided to afford you the opportunity for what is commonly known as 'plausible denial,'" the authors say, adding that they believe that President George W Bush was placed in a similar position, when he decided to attack Iraq over what later proved to be false information concerning Saddam Hussein's possession of weapons of mass destruction.