Swine flu's preferred victims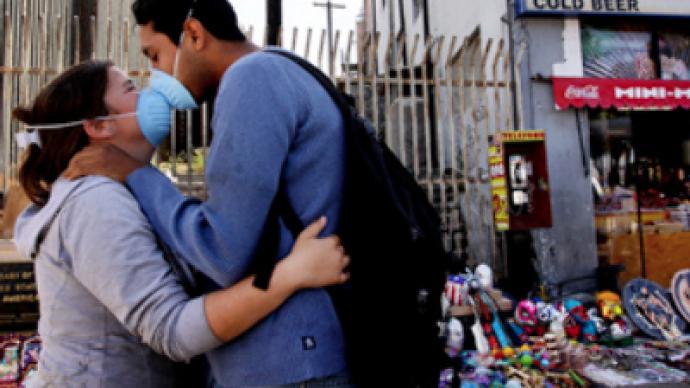 People in the US have been warned that youth and pregnant women are among the most severely at risk of swine flu. But it seems the virus may be showing another preference — for minorities.
An analysis of Boston's swine flu cases revealed that, although Hispanics and African Americans are minorities in the city, they composed the bulk of infections.
"We really didn't know what the race-ethnicity breakdown would be," Dr. Anita Barry of Boston's Public Health Commission said on National Public Radio. "And so, when we saw that this illness was disproportionately affecting black and Latino residents, it really did get our attention."
It was also alarming that these groups appeared to suffer the most severe cases. This was shown by the fact that African Americans and Hispanics were twice as likely to be hospitalized.
Nebraska's National Public Radio revealed a similar trend, noting that minorities only compose a small segment of the state's residents, but their infection rate is "out of proportion to their share of the population."
It's not genetics…it's economics
According to Dr. Rubens Pamies, a member of the advisory committee for the US Office of Minority Health and professor of internal medicine at the University of Nebraska Medical Center, these revelations are not overly surprising.
"When you have individuals, especially in under-serviced communities, which tend to have overcrowding and more close contact, it's easier to see why the spread would be much more…" he said on Net Radio.
"African Americans are not genetically predisposed to getting viruses quicker," Pamies clarified in another interview.
So far, there is no evidence to suggest that Hispanics are either.
In Boston, the theories of disproportionate infection echoed those of Dr. Pamies – that is, it's because of minorities' living conditions.
It is believed that the swine flu preys on the poor who, among other things, have limited access to adequate health care.
Schools support the theory
The hardest hit segments of Boston were low-income areas. Health officials support their notion that infection is based on socio-economics rather than genetics by the fact that within those areas most victims were children.
Minorities become the majority in Boston classrooms. Low-income parents appeared to have difficulty keeping their children at home when they were sick. Sending them to school despite their symptoms is believed to have caused a breeding ground for contagion.
Dr. Anita Barry said that "it was hard on everyone —the parents, the children and the school." She said school nurses were overwhelmed by the number of parents who were called to pick up a child but reported that they either could not come, or had no one to take care of the child.
The condition in schools was so threatening that many shut down. "We believe it is best to help prevent new infections by keeping members of the school community isolated from one another for one week," said Dr. Carol Johnson, Superintendent of Schools.
When Louis Agassiz Elementary School closed, so did the adjacent community center. This can create serious problems for parents.
A survey conducted by the Harvard School of Public Health and funded by the Center for Disease Control found that nearly half of African Americans and Hispanics believed that someone in their household would lose their job or business if schools closed due to the flu. However, only a fraction of white Americans, who tend to have the highest incomes, reported the same fear.
The aggravating health factor
Part of the explanation for why the swine flu sent more minorities to the hospital appears rooted in underlying health problems. About half of the hospital cases in Boston reportedly revealed that the patients suffered from asthma, a condition also believed to disproportionately affect minorities.
Dr. Pamies said that conditions such as "diabetes, chronic obstructive lung disease, asthma, heart conditions and so on, predisposes you to having worse outcomes."
That the affected groups tend to lack health insurance and seek medical treatment from public health clinics appears to aggravate their delicate circumstances.
If the theories put forward so far are correct, the forthcoming federal swine flu report should clearly show that poorer people, no matter what their ethnicity, tend to be overburdened by the virus.
Michelle Smith for RT
You can share this story on social media: