Supreme Court endorses warrantless search based on marijuana smell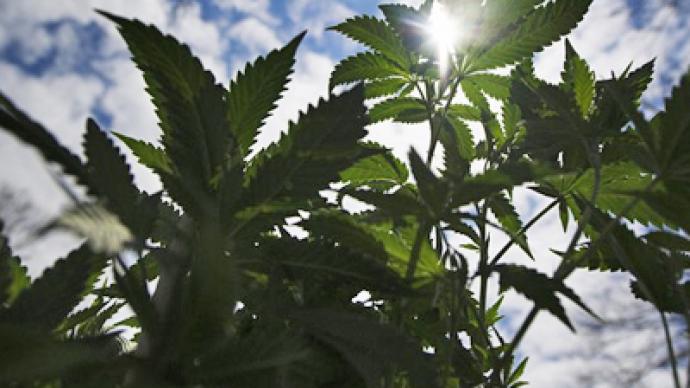 The court ruled the smell of marijuana and suspicious sounds equated just cause for police to burst into an apartment without a warrant to search and seize private property.
Citing "exigent circumstances" the high court said officers did not require a warrant to enter and search the property. The Kentucky police officers were perusing a suspected drug dealer, but mistakenly went to the wrong apartment building. They approached the door where they smelled marijuana and announced their presence. The officers believed their suspected drug dealer was inside. They busted into the wrong apartment because they heard sounds that lead them to believe evidence was being destroyed.The officers proceeded by kicking the door in, entered the apartment, and found both marijuana and cocaine in sight. They then proceeded to search the apartment without a warrant. The Supreme Court of Kentucky initially ruled that the search was not legal and did not meet "exigent circumstances" because officer should have known that knocking on the door would cause the occupants to attempt to hide or destroy evidence. The court contended that officers "deliberately create the exigent circumstances with the bad faith intent to avoid the warrant requirement."The US Supreme Court disagreed. "Where, as here, the police did not create the exigency by engaging or threatening to engage in conduct that violates the Fourth Amendment, warrantless entry to prevent the destruction of evidence is reasonable and thus allowed," Justice Samuel A. Alito Jr. wrote as part of the court's decision. "Because the officers in this case did not violate or threaten to violate the Fourth Amendment prior to the exigency, we hold that the exigency justified the warrantless search of the apartment."Justice Ruth B. Ginsburg was in the minority, opposing the majority decision made by the court. "The court today arms the police with a way routinely to dishonor the Fourth Amendment's warrant requirement in drug cases," she wrote. "In lieu of presenting their evidence to a neutral magistrate, police officers may now knock, listen, then break the door down, nevermind that they had ample time to obtain a warrant."Kentucky police later found their initial suspect in a different apartment.
You can share this story on social media: