Supreme Court sympathizes with Monsanto in seed patent case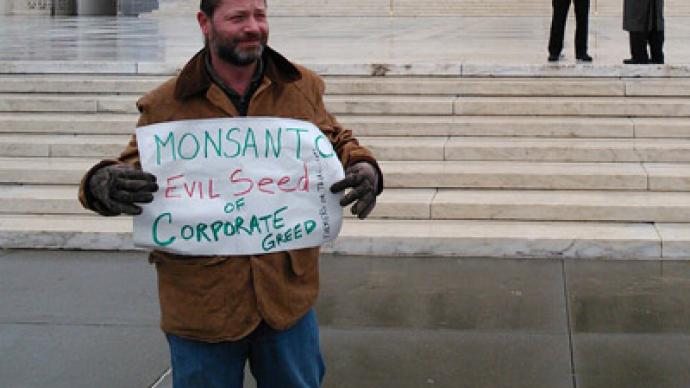 The United States Supreme Court justices heard arguments on Tuesday involving the case of a 75-year-old soybean farmer who is being sued for patent infringement by biotech giant Monsanto.
Vernon Hugh Bowman of Indiana has been fighting a lawsuit from Monsanto for years, and on Tuesday it went all the way to the highest court in the United States.
Monsanto, a billion-dollar biotechnology corporation perhaps best known for marketing cutting-edge agricultural products, says Mr. Bowman infringed on a patent it holds when he re-planted genetically modified "Roundup Ready" seeds manufactured by the company. Those seeds have been created by Monsanto to be resistant to pesticides and are reported by the Associated Press to be on around 90 percent of soybean farms in Indiana. Bowman says his use of the product shouldn't concern the company, however, since he is accused of simply replanting seeds from an earlier crop.
Monsanto insists that farmers are prohibited from saving "second generation" crops used after a preliminary harvest because those seeds, like the original, are resistant to herbicides and could thus be used for multiple grow seasons without a license. Mr. Bowman became subject to a Monsanto-brought lawsuit after he re-planted soybeans he obtained from a grain elevator that housed seeds harvested by other farmers, which consisted of some "Roundup Ready" seeds.
The Supreme Court is expected to decide between now and July as to whether Mr. Bowman had the legal right to replant those crops, but reports from Tuesday's hearing suggests that it will likely be a hard battle for the farmer to win. He last had his argument thrown out by the US Court of Appeals for the Federal Circuit in September 2011 after it was decided that a second-generation seed constituted a "newly infringing article."
According to Bloomberg News, Justice Stephen Breyer seemed to agree with that interpretation during Tuesday's hearing and told Mr. Bowman's lawyer, "What [the law] prohibits is making a copy of the patented invention, and that is what he did."
Without strong patent protection, "Monsanto would have no incentive to create a product like this one," added Justice Elena Kagan.
The Associated Press reports that Chief Justice John Roberts wondered "why anyone in the world" would invest time and money on seeds if it was so easy to evade patent protection.
Bill Freese, the science and policy analyst for The Center for Food Safety tells the AP that a win for Monsanto is unlikely to hurt the company's profits since most of their money is made off of cord, a seed that can't be re-planted.
"So seed-saving would have no impact on the majority of Monsanto's seed revenue," he says.
Should Monsanto win, though, the Supreme Court ruling is likely to set a strong precedent for protecting patents, even those that are considered unfair by farmers like Bowman.
You can share this story on social media: