Two pro-immigrant rulings made by Supreme Court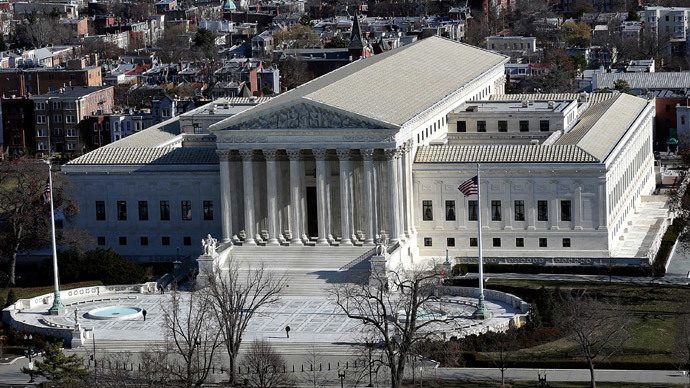 The US Supreme Court on Monday declined to review decisions against local Pennsylvania and Texas laws targeting illegal immigrants, leaving intact rulings that declared the efforts unconstitutional.
In question were immigration laws passed by the cities of Hazleton, Pennsylvania, and Farmers Branch, Texas, which were intended to regulate local housing rentals among illegal immigrants.
Specifically, Reuters reported that the ordinances "required tenants to provide identification that could later be verified with immigration authorities and penalized landlords from renting to illegal immigrants." If a tenant was found without a license, he/she faced fines as well as arrest.
Additionally, the Hazleton law penalized businesses if they were found to be knowingly employing undocumented workers.
Both of these laws were declared unconstitutional by lower courts, which reiterated that immigration remains an issue to be handled by the federal government. These rulings have now been solidified by the Supreme Court's refusal to hear the cities' arguments for appeal.
The decision remains in line with previous statements by the Supreme Court, which has also found immigration to be a federal issue. Those who supported the ordinances, however, argued that lack of action on the national level forced local governments to make their own rules.
Pro-immigration advocates in Texas greeted the news with approval, according to the Dallas Morning News. One of the groups suing Farmers Branch told the newspaper that the issue should now be put to bed.
"The U.S. Supreme Court has rejected the city's final appeal," said Nina Perales of the Mexican-American Legal Defense and Education Fund.
"After more than 7 years of litigation, during which the city lost at every stage, it is time for Farmers Branch to let go of its immigration ordinance. Today's ruling is a strong message that local immigration laws are unconstitutional and hurt cities because they waste precious resources and undermine community relationships."
While these two laws were struck down, immigration watchers are still waiting to see how the Supreme Court will react to an appeals request concerning a similar law in Fremont, Nebraska. Supporters of that ordinance successfully argued in lower courts that it was permissible because it did not target immigrants themselves, just those businesses which employed them.
"I guess if we are in Nebraska, we can do it, and if we are in Texas, we can't," Farmers Branch Mayor Bill Glancy told the Morning News.
Previously, the Supreme Court has upheld laws penalizing employers who hire illegal immigrants. Both Hazleton and Farmers Branch argued it was within their right to regulate undocumented immigrants and employers, but opponents said the ordinances went too far.
In a statement responding to the decision, attorney Bill Brewer said, "Our hope is that the city will close this unfortunate chapter in its history and begin to embrace the changing demographics of the community – as part of a more inclusive and dynamic future."
You can share this story on social media: