Superbug vs. Monsanto: Nature rebels against biotech titan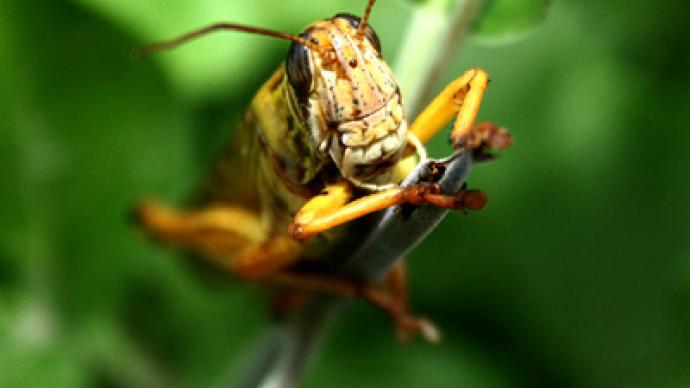 A growing number of rootworms are now able to devour genetically modified corn specifically designed by Monsanto to kill those same pests. A new study shows that while the biotech giant may triumph in Congress, it will never be able to outsmart nature.
Western corn rootworms have been able to harmlessly consume the genetically modified maize, a research paper published in the latest issue of the journal GM Crops & Food reveals. A 2010 sample of the rootworm population had an elevenfold survival rate on the genetically modified corn compared to a control population. That's eight times more than the year before, when the resistant population was first identified. Experts are also noting that this year's resistant rootworm populations are maturing earlier than expected. In fact, the time the bug's larvae hatched was the earliest in decades."The Western corn rootworm 'season' is underway at a pace earlier than I have experienced since I began studying this versatile insect as a graduate student in the late 1970s," entomologist Mike Gray wrote in The Bulletin, a periodical issued by the University of Chicago's Department of Crop Studies.Studies in other states have also revealed that the rootworm population is becoming increasingly resistant to genetically modified corn. Last year, Iowa State University researcher Aaron Gassmann noted that a number of farmers reported discovering, much to their dismay, that a large number of rootworms survived after the consumption of their GM crops. Gassmann branded these pests "superbugs." Farmers and food companies have increasingly been dependent on GM crops, and many have abandoned crop rotation, a practice that has been used to stave off pest infestations for centuries. Some have even gone as far as to ignore federal regulation, which require the GM corn plantations be accompanied by a small "refuge" of non-GM maize. The recent findings have potentially devastating ramifications for both farmers and consumers. Genetic maize plantation would easily come under attack from the swelling number of "superbugs," resulting in dwindling harvest numbers for farmers. Ultimately, consumers will pay the price not only for corn, an essential product whose derivatives are used in a plethora of products ranging from yogurts to baby powder, but for other crops sold in the market. Rising corn prices would mean that more farmers would plant corn, despite the risks, and the yield for other crops would drop. That would drive prices for virtually all food items up, hitting hard on a population already smitten by ongoing economic difficulties.Monsanto launched its anti-rootworm GM corm in 2003. The Cry3Bb1 protein, derived from the Bacillus thuringiensis (Bt.) bacterium, was inserted into the corn's genetic code. The embedded protein was supposed to be fatal to all rootworms. The recent findings came days after Monsanto, along with other biotech companies, got a major boost from a congressional panel, which okayed the manufacture of GM crops despite pending legal challenges. Many of the lawsuits that Monsanto faces include assessments that its crops are unsafe for human consumption and affect the health of unborn children. Monsanto has also been an active plaintiff itself. Its primary targets include entities that seek to label GM foods, and small farmers, whom the biotech behemoth accuses of using genetically modified crops patented by Monsanto.
You can share this story on social media: