Five states consider assisted suicide legislation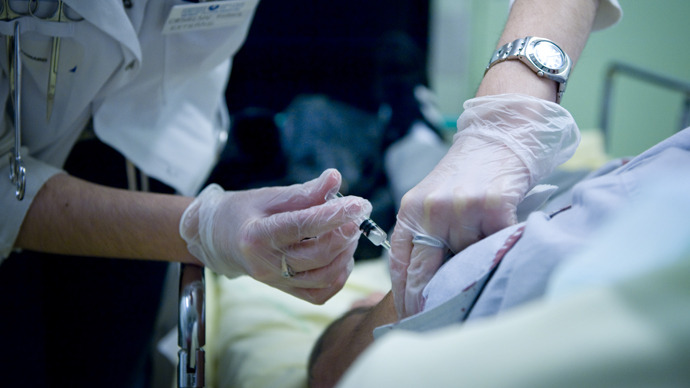 Assisted suicide — helping a person take his or hers own life — is legal in only two of the 50 states in the US. But in at least five others, politicians are looking to pass new bills that they say help the sickly die with dignity.
Lawmakers in New Jersey, Connecticut, Massachusetts, Vermont and Kansas have all recently considered 'right to die' legislation, and the approval of any of these bills would let them join Washington and Oregon as the only locales in the US where assisted suicide is legal.
Judy Epstein is the director of clinical services at Compassion & Choices, a Denver, Colorado-based organization that advocates for having humans end their lives on their own terms. "Most people we hear from are fairly well educated and they don't like the choices available in the medical world," Epstein tells Bloomberg News this week. "They are people who want to be proactive and want to ensure they will have a peaceful death on their own terms, that they won't be in a hospital on a ventilator, that they won't be knocked out on drugs or be in pain."
In the only two states where assisted suicide is allowed by law, the number of Americans who chose to end their lives this way is but a fraction of a percent of all total casualties. Last year in Oregon, only 77 people were prescribed life-ending pills, according to the state's Public Health Division — less than one percent of all state-wide deaths. A year earlier in Washington, doctors there only helped end the lives of 70 residents.
A recent article published by US News & World Report concluded that nearly three years after lawmakers passed Washington's Death With Dignity Act, only 255 patients applied for and were granted lethal prescriptions.
But while Epstein's group and an array of others are asking states across the country to let Americans chose how they want to die, pro-life activists are urging for the opposite. Just this week, the Montana State Senate agreed to advance a measure that would criminalize assisted-suicide, paving the way for lawmakers there to soon debate the issue. If that bill becomes a law, physicians like Dr. Eric Kress would be subject to penalties, fines and even jail time.
Kress, a doctor with 26 years in the field of family medicine, tells ABC News that he has been in favor of legalizing assisted suicide across the board after a terminally ill patient called him a "coward" for hesitating to prescribe life-ending pills.
"This man affected me," Kress wrote earlier this month for the Missoulian newspaper about the patient in question. "What kind of man or doctor am I? Am I just going to sit idly by watching a proud man suffer and die, or am I going to be brave and do what it takes to help people at the end of life? I spent many sleepless nights pondering this question."
"This once-strong man had been reduced to 120 pounds of skin and bone," Kress adds to ABC. "He could not swallow or walk. He would often be found weeping and bemoaning the miserable fate that had befallen him. He begged his wife to end his suffering."
"I am not a physician that wants to go to jail," Kress says. But the potential passing of HB 505 in Montana — the state's so-called "Montanans Against Assisted Suicide" bill, could mean 10 years in prison if he helps end another life.
"I always stress that the issue of suicide is a very small part of my practice," he says. "Every day I see depressed patients, and I spend so much time with them figuring out who is suicidal and who isn't than with aiding in dying. At times, I've had the privilege, but the majority of my work is preventing them from dying."
Citing the small number of terminally ill persons who chose to take the route now endorsed by Kress and others, Elizabeth Trice Loggers, medical director of palliative care at the Seattle Cancer Care Alliance, tells US News that legislation would simply limit people from making decisions that are rarely made in haste.
"Each year, there are over 50,000 deaths in Washington state, and cancer is the second leading cause of death. The number who chose to participate in the Death With Dignity program is miniscule," she says.
Loggers recently completed a study into that program, and says the results are clear: "This study shows that people are not making these decisions lightly," she says.
"Most Americans say that they want to die at home with family members around, not in pain and with their mental faculties as in tact as possible. But, not everyone is achieving that kind of good death. For the rare number of people using the Death With Dignity program, we are reassured by the high numbers of people who use palliative or hospice care and who talk with their families about this decision," Dr. Loggers adds.
In fact, the Virginia-based National Hospice and Palliative Care Organization opposes assisted suicide, and urges the terminally ill to consider all of their options before the opt to end their lives on their own. "The organization said many of the issues that cause people to want to end their lives, like concerns over pain or being a burden to their families, can be addressed by hospice care and counseling," Shannon Pettypiece writes for Bloomberg. "They would like efforts to be focused on getting more terminally ill patients enrolled in hospice sooner and educating doctors about better pain management."
Meanwhile, those looking to take this rarely embraced method of ending their own lives are increasingly coming under fire. Just last week in Connecticut, assisted suicide backers hit a roadblock when the state legislature halted an attempt to legalize the practice.
"We must continue to be on our guard. Though it is unlikely, the Assisted Suicide bill could return as an amendment on another bill before the close of the legislative session on June 5th. Even if it does not, our opposition has vowed to bring it back next year," Peter Wolfgang, president of Family Institute of Connecticut, told LifeNews.