SOPA lobby games: Why Netflix PAC agenda is NOT convincing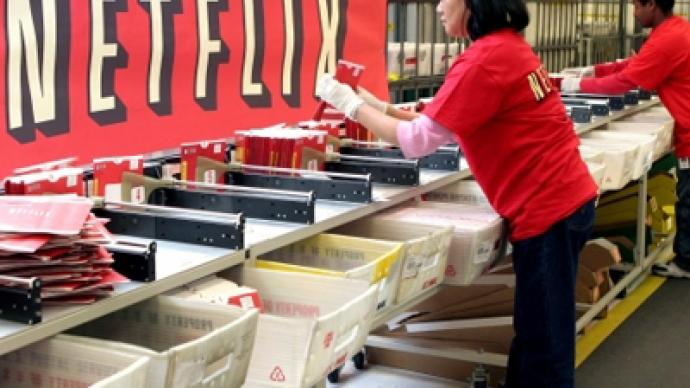 After an RT article caused, as Netflix calls it, "a bit of a firestorm," the streaming video service requested a clarification from our side. We are happy to offer it and explain exactly why we still have a lot of unanswered questions.
Following RT's write-up this week on FLIXPAC, a political action committee just launched by California-based Netflix, the company has asked us to clarify that by no means do they intend to use their new DC ties to lobby for the Stop Online Piracy Act (SOPA) and PROTECT IP Act (PIPA)."PACs are commonplace for companies that lead a big, growing market and Netflix is no exception," the company's director of corporate communications, Joris Evers, tells RT in an email. "Our PAC is a way for our employees to support candidates that understand our business and technology.It was not set up for the purpose of supporting SOPA or PIPA.Instead, Netflix has engaged on other issues including network neutrality, bandwidth caps, usage based billing and reforming the Video Privacy Protection Act."We appreciate Netflix's reaction and think that this statement makes a lot of sense, actually — we even believe that every word they wrote to us is true, particularly since both SOPA and PIPA have been killed by Congress and have essentially no chance of being reintroduced in their previous forms. What raises concern on our part, however, is that FLIXPAC has been created alongside an array of proposed congressional bills that, while differing in name, emulate many of SOPA and PIPA's negative provisions. Will Netflix and FLIXPAC support those bills?Netflix says that FLIXPAC will serve to support candidates that will further promote what's good for their business in Washington, but for a company that, "officially," took a "neutral" stance on SOPA and PIPA, it is peculiar that they would file to start a political action committee to advance an undecided take on such a critical issue for their customers. In our article, we alleged that FLIXPAC would be a perfect outlet for the DVD-rental company that also provides streaming video services to millions of clients to lobby the US Congress for anti-piracy legislation that would benefit their business. After all, Netflix had previously been linked as a supporter of SOPA, only to later officially announce that it would take no side in matter. And although both SOPA and PIPA have been thankfully axed before they could be approved by Congress, new legislation, such as the Cyber Intelligence Sharing and Protection Act, or CISPA, could prove to be even more damaging if passed.Could that happen with help from FLIXPAC? We don't know, because Mr. Evers declined our offer to come on our network and clarify Netfix's position. Which, as you might imagine, makes us even more suspicious. According to congressional records, in 2009 Netflix lobbied Congress to the measly sum of only $20,000, only to increase that amount by 25-fold when they spent half a million in Washington in 2011. Although today Netflix says they are undecided on the topic of SOPA and PIPA, "Netflix sent a letter which was supportive of legislation that accomplished those [SOPA] goals," the US Chamber of Commerce told The New York Post back in January, the paper reports. Deadline.com reported that Ted Sarandos, chief content officer for Netflix, vowed to withdraw from participating in Obama fundraisers over the president's anti-SOPA stance.The entertainment industry's anger at the White House's position to oppose SOPA and PIPA was so significant, in fact, that Vice President Joe Biden went to both Silicon Valley and Hollywood earlier this year to address issues from supporters who were thrown off by the administration's approach, according to Variety.Additionally, the non-profit, non-partisan public resource site OpenCongress.org has listed Netflix (along with other major names as the Recording Industry Association of America, Disney and the Motion Picture Association of America) as one-time supporters of SOPA in their "Money Trail" page detailing who has helped with H.R. 3261, the Stop Online Piracy Act.
Following that meandering money trail from Netflix's Los Gatos, California office to K Street and Capitol Hill only raises more questions, though. Netflix continues to insist today that it is neutral on anti-piracy legislation, though only months earlier had enlisted the Monument Policy Group as a paid lobbying pal. The Monument Policy Group was among one of the many firms that fought to see that SOPA would pass, receiving $50,000 from the Entertainment Software Association to back the bill — which is the very same trade group that touted Netflix for allowing its streaming service to be carried on video game consoles.Netflix also wrote a check for $70,000 to lobbyists Franklin Square Group in 2011, who would go on to spend time speaking to lawmakers about the Stop Online Piracy Act. And if you want to know what exact Netflix has on their mind, a 2010 lobbying registration form submitted to Congress revealed that the first issue listed under "current and anticipated" areas to lobby was "copyright."Which is it then? Did Netflix support SOPA, only to later say it was taking a neutral stance, then created a political action committee to make sure other legislation would advance to the White House — but nothing along the lines of those last two failed proposals? While they say they won't take a side on the new defunct SOPA and PIPA acts, Netflix has never denounced the legislation. The truth is, of course, they have good reason to see the acts go through. Had SOPA and PIPA been passed, the federal government stood to be able to prosecute anyone sharing and distributing copyrighted material on the Web — or, in other words, anyone competing with Netflix's pay service. When Netflix announced a pay hike in their subscription service last year, the company saw user accounts being cancelled left and right (to the tune of around 800,000 terminations, actually), which had experts at the time predicting that online piracy would only increase and disenfranchised former Netflix users sought other avenues for their entertainment. Writing on behalf of the Dartmouth Business Journal last month, Justin Chongwook Lee said, "Netflix would become the most financially viable option to watching shows and movies for many consumers" should SOPA had passed. "Besides the computer gurus who might be able to work around the regulations and download from illegal websites or networks, most consumers are left to seek legal alternatives. Having to pay ten dollars for a movie ticket versus paying eight dollars for a monthly Netflix membership fee, the consumers would much rather choose the latter because consumers can access many more shows while paying less per shows that they watch."In an editorial published by Politics & Policy last year during the dawn of SOPA, the website also writes that the Motion Picture Association of America introduced the anti-piracy legislation, but only after Netflix noted a drop in subscriptions that the site estimated would "lead to an increase in intellectual property violations in the coming months, as individuals begin downloading and streaming content from less legal sources."Perhaps the worst example of such came from TechDirt's Mike Masnick. In his article Mr. Masnick, who has a history of factually incorrect reporting, didn't bother to check the facts and blatantly stated that there's no reason to suspect Netflix to be interested in cracking on Internet privacy since the company was "neutral" on SOPA.Having said all that, we'd like to leave the door open for further discussion with Netflix. We hope that the company's representatives will find time to come to RT and have an opportunity to answer all our questions. And if Netflix has no problem saying that it will never support Internet censorship, we won't have problems with posting a big fat headline "Netflix is for free Internet!"
You can share this story on social media: