Snowden joins Ellsberg, Greenwald on new Freedom of the Press board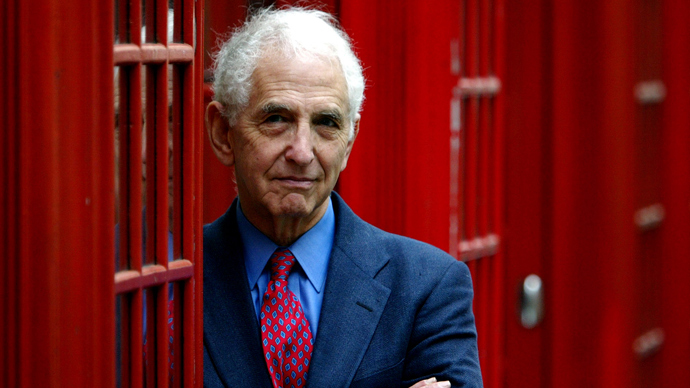 Former intelligence contractor Edward Snowden will join the likes of Pentagon Papers whistleblower Daniel Ellsberg and journalist Glenn Greenwald on the executive board of the non-profit Freedom of the Press Foundation, the group announced Tuesday.
The organization, formed barely a year ago with the goal of helping support and defend public interest journalism, confirmed Tuesday afternoon that the National Security Agency contractor-turned-leaker will join the group's board starting this February.
Greenwald — the reporter who was among the first to collaborate with Mr. Snowden last year on a series of articles based off of those leaked NSA documents — said in a statement Tuesday that the board's newest edition "is a perfect example of our group's purpose."
"We began this organization to protect and support those who are being punished for bringing transparency to the world's most powerful factions or otherwise dissent from government policy," Greenwald said
Snowden's actions have been "heroic," Greenwald continued, adding, "it is very fitting that he can now work alongside us in defense of press freedom, accountability, and the public's right-to-know."
The former contractor, now 30, is wanted for espionage and other charges in the United States for divulging classified documents detailing previously unreported surveillance programs carried out by the NSA. Since last June those disclosures have consistently uncovered a spy apparatus that collects intelligence on millions of Americans on a daily basis and actively works to exploit security vulnerabilities in order to eavesdrop on seemingly all forms of modern communication.
Although formed in only late 2012, the FPF has made waves in recent months for its role in supporting risky journalistic endeavors with which few others have bothered. To bypass the financial blockade imposed by major credit card companies against WikiLeaks, the FPF has for the last year allowed supporters an alternative method of contributing to the anti-secrecy site. Previously the organization has hired professional court stenographers to transcribe the court-martialing of the American soldier sentenced to 35 years for colluding with WikiLeaks, and most recently has begun outfitting other media outlets with the computer systems necessary to maintain secret correspondence with sensitive sources.
"Journalism isn't possible unless reporters and their sources can safely communicate," Mr. Snowden said in a statement published by the group Tuesday afternoon, "and where laws can't protect that, technology can. This is a hard problem, but not an unsolvable one, and I look forward to using my experience to help find a solution."
Ellsberg, a former Department of Defense official prosecuted in the 1970s for leaking a trove of classified documents on the Vietnam War, called Snowden "the quintessential American whistleblower" in a statement.
"Leaks are the lifeblood of the republic and, for the first time, the American public has been given the chance to debate democratically the NSA's mass surveillance programs," Ellsberg said. "Accountability journalism can't be done without the courageous acts exemplified by Snowden, and we need more like him."
Along with Greenwald and Ellsberg, Snowden will join Electronic Frontier Foundation co-founder John Perry Barlow, actor John Cusack, filmmaker Laura Poitras and tech journalist Xeni Jardin, as well as the Rainey Reitman and Trevor Timm — the director of activism and the former chief activist, respectively, at Barlow's EFF.
You can share this story on social media: