Second trooper suspended for roadside cavity search in Texas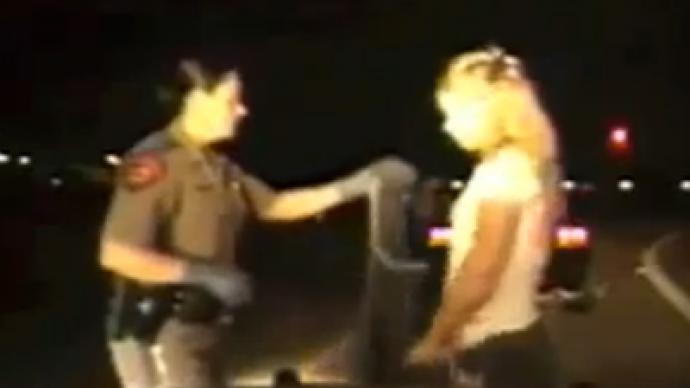 A second Texas State trooper has been suspended without pay for being involved in a roadside cavity search that subjected two women to humiliating searches of their genital regions.
The two troopers are now facing a lawsuit by the women, who claim they were searched unconstitutionally without probable cause. The Department of Public Safety (DPS) announced Thursday that State Trooper David Farrell has been suspended without pay effective Dec. 21, after Trooper Kelley Helleson was suspended without pay on Dec. 19, pending the outcome of the investigation.The two victims, 38-year-old Angel Dobbs and her niece, 24-year-old Ashley Dobbs, claim they were traumatized from what they consider a case of public sexual assault. After Farrell pulled them over on the side of a highway for throwing a cigarette butt out the car window, the trooper called his female colleague to search the women's bodies and vehicle for marijuana.No narcotics or contraband were ever found during the vehicle search, but Farrell insisted that his colleague search the women's bodies. Using the same latex glove on both women, Helleson searched their anuses and vaginas and irritated one of the women's cysts, causing "severe and continuing pain and discomfort," the lawsuit states. The search occurred on the side of the road while illuminated by the police car's headlights, in full view of oncoming traffic."I was molested, I was violated, I was humiliated in front of other traffic," Angel Dobbs told WFAA. "I had to watch my niece go through the same thing and I could not protect her at that point."After Helleson finished touching the women, they were released with a warning not to litter.Initially, only Helleson was suspended from her position, since she conducted the physically violating search. But it wasn't until the Dallas Morning News published a video of the search that the DPS took any action.Two days later, the second trooper was suspended for failing to stop the violating search, but this suspension was not announced until Thursday.The incident of the roadside cavity search is currently being investigated for possibly violating the Fourth Amendment, which protects against unreasonable searches."This is outside the constitutional grounds by a mile. It's not even close. This has to stop. These two need to be stopped," attorney Scott Palmer told NBC."What we're dealing with is a Class C misdemeanor. It does not justify any type of pat-down, let alone an invasive search of cavities of women," he added.The case will go to a grand jury this month. The DPS has not publicly commented on the incident.
You can share this story on social media: