Arrested and beaten in Seattle for being black?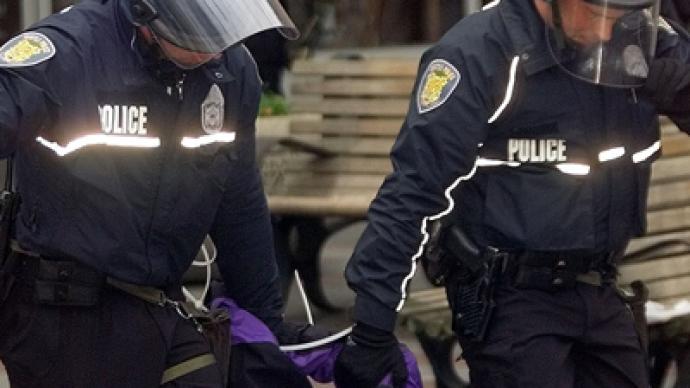 Two young black men say they are scared to step foot in their native Seattle, Washington, after its been revealed that a police officer that arrested the duo in 2010 was recorded on film saying he'd fabricate charges against them.
Josh Lawson, 23, and Christopher Franklin, 22, were arrested on November 16, 2010 in Seattle, Washington. They were weary at the time of being mysteriously cuffed for what they say was doing nothing. Now it makes sense though after a dashboard camera reveals that the arresting officer was willing to do anything to land the two in jail.
The cop on the scene says the two matched the description provided for two suspects wanted in a nearby robbery. A 911 call had officers on the lookout for two black males in their late twenties, tall, skinny and wearing jeans.
Franklin, however, was only 5'9" at the time of the incident. Lawson, barely three inches taller, was the only one of the two to be clad in jeans.
"The only thing they had to fit the description was black males," the men's attorney, Lizanne Padula, tells ABC News. "This was like a meteor dropping down on them."
Next that dropped on them was an officer's boot.
"I used a flat foot, front push kick to the center of the male chest knocking him backwards and flat to the ground," Officer Brad Richardson wrote in his report at the time. What he left out, according to the men, was that he also manhandled the two, caused physical bruises and arrested them at gunpoint. They ended up in jail that night, badly bruised, but were never charged with a crime.
The alleged manhandling wasn't caught on the Richardson's dashboard cam, but what was recorded with the officer telling the suspects why they were going to jail.
"Well, you're going to jail for robbery, that's all," says Richardson.
"For robbery?" asks Franklin.
"Yeah, I'm going to make stuff up."
"Clearly if the officer had made stuff up he would have been in hot water," Sgt. Sean Whitcomb of the Seattle Police Department tells ABC. With no charges filed and the two young black men walking away bloody and bruised, the recent release of the video is causing suspicion.
"It felt like no one was going to believe us," Franklin reveals. "We were just going to be another statistic."
The release of the video came after a local ABC affiliate began investigating missing police dash-cam videos. Now that the footage has been revealed and, two years later, Richardson has been exonerated of any wrongdoing, the two men fear that cops will only come down on them harder next time.
"We're terrified of hanging out in our own city," Franklin said. "These officers have seen our faces. They know our names. We can't trust people."
In defense of Officer Richardson, Sgt. Whitcomb says that the recorded remark was mere "banter"