Tensions - and settlements - on the rise as Middle East talks hit crossroads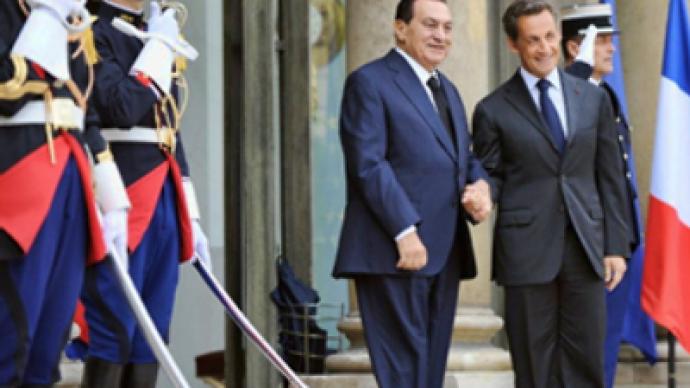 Washington's special envoy to the Middle East is in Israel in an effort to halt new settlement construction in the West Bank, and get the Israeli-Palestinian peace talks back on track.
Peace talks between Israel and the Palestinians ground to a halt on September 26 as the government of Prime Minister Benjamin Netanyahu refused to extend a ten-month moratorium on new housing construction in the West Bank. Now the construction equipment is back and running again, and this has done the fragile peace process absolutely no favors.
Netanyahu announced a freeze on construction in the West Bank settlements in November under pressure from US President Barack Obama in an effort to bring Palestinian President Mahmoud Abbas back into direct talks after a 20-month hiatus.
The continuation of settlement construction threatens to sink the fragile negotiation process since it makes no sense, the Palestinians say, to deliberate about a two-state solution when the very land that is supposed to be the site of the new Palestinian state has been turned into a construction zone by Jewish settlers.
Nearly 500,000 Jews are now residing in over 100 settlements across the West Bank and East Jerusalem on land that Israel captured from Jordan in the 1967 Six-Day War. The International Criminal Court has ruled that the settlements are illegal, but Israel disputes the charge. About 2.5 million Palestinians live in the same areas.
Palestinian President Mahmoud Abbas has threatened to walk out of the peace talks if the settlement construction does not end.
In an attempt to break the stalemate, the White House has sent George Mitchell to the region to try to keep the negotiations on track. The veteran US statesman will meet with Israeli Prime Minister Netanyahu on Wednesday, and with Palestinian President Abbas on Thursday.
Mitchell, who is a prominent Arab-American, served as the Senate Majority Leader from 1989 to 1995. He was appointed special envoy for the Middle East in January, 2009.
Nabil Abu Rdainah, a spokesman for Abbas, told Voice of Palestine Radio: "We are waiting to hear the American position or to hear the latest from the Americans on the Israeli position. Until this moment, we are still waiting."
Meanwhile, impatience over the stalled talks is growing.
Sarkozy to the rescue?
French President Nicolas Sarkozy on Monday welcomed Mahmoud Abbas in Paris, where he made the surprising announcement that he will play host to a new summit next month. Netanyahu responded positively to the invitation, saying he would be willing to talk with Abbas "at any time."
France is represented in the Middle East peace talks by the European Union, as part of the Middle East Quartet, which also includes the United States, the United Nations and Russia. But French diplomats say they have lost patience with the peace talks and now want to see action instead of more words.
Israeli media has already noted that Sarkozy used stronger language than President Barack Obama in his opposition to renewed construction for Jews.
"The settlements must stop," Sarkozy said just before the moratorium was set to end. "Israel has a moratorium for ten months and it should be extended for three to four months more to give peace a chance."
The French leader then criticized ongoing US efforts to broker a viable peace plan between the Israelis and the Palestinians, saying things have "regressed" since Camp David.
"Ten years after Camp David, we haven't progressed," Sarkozy declared alongside Abbas in Paris. "Perhaps we have even regressed."
These bitter comments will go down in Washington about as smoothly as French wine in California.
Abbas, for his part, told reporters that American involvement is necessary but it is not enough.
"Nothing will be resolved without strong American backing," he said. "But does the strong commitment that's needed have to be exclusive? That's been the question for 10 years, since Camp David. If such an exclusive commitment was enough, we'd know it."
The Middle East Peace Summit at Camp David took place in July 2000 between US President Bill Clinton, Israeli Prime Minister Ehud Barak, and Palestinian Authority Chairman Yasser Arafat. The summit was one of many attempts over the years to negotiate a "final status settlement" to the Israeli-Palestinian conflict.
Critics of the French plan to intervene in the negotiating process, however, say that it will only compromise Obama's efforts at bringing a permanent peace to the region.
"A summit hosted by Sarkozy would take the momentum away from the Obama administration," wrote Israel National News, "which has failed to bridge the gaps between the PA and Israel."
But it is not only the United States that must deal with intruders in the peace talks.
Prime Minister Benjamin Netanyahu was forced to explain a controversial United Nations address by his Foreign Minister, Avigdor Lieberman, on Tuesday. Lieberman proposed swapping parts of Israel with large Arab populations to a future Palestinian state in exchange for Israel holding onto its settlements in the West Bank.
"It is vital, and I wholeheartedly believe that it is within our power to reach a framework agreement within a year and change Middle East history," Netanyahu reportedly said.
An earlier statement by the Prime Minister's Office mentioned that "Lieberman's address was not coordinated with the prime minister," adding that "Netanyahu is the one handling the negotiations on Israel's behalf. The various issues surrounding a peace agreement will be discussed and decided only at the negotiating table, and nowhere else."
Lieberman, who founded the Yisrael Beiteinu party, whose electoral base is made up of immigrants from the former Soviet Union, also suggested in his speech the possibility of a long-term interim agreement with the Palestinians, as opposed to a final-status one, but warned that this "could take a few decades."
Many Israelis and American Jews expressed outrage at the speech, and several American Jewish leaders demanded Lieberman's resignation.
"If Lieberman can't keep his personal opinions to himself, he ought to resign from the cabinet," said Seymour Reich, a former president of the Conference of Presidents of Major Jewish Organizations, as quoted by Haaretz, the Israeli daily.
While Lieberman's comments (which Prime Minister Netanyahu says he was not made aware of before they were uttered) may have been designed to throw the peace talks off balance, they could also reflect the confusing state of Israeli politics today, which is severely split over the settlement issue. After all, if the Israeli and American politicians can not get on the same page, how can an acceptable peace deal with the Palestinians be successfully negotiated?
Meanwhile, not wanting to fuel global frustration over the settlement issue, Benjamin Netanyahu continues to buy time, hoping that eventually the tide of events will roll in his favor. So far he has been lucky.
So now the French President believes he can change the course of events and deliver a final agreement on the Middle East issue. Before he attempts such a colossal undertaking, Nicolas Sarkozy may want to consider rolling back France's generous 35-hour workweek, because he is going to need a lot of extra time trying to solve this issue.
You can share this story on social media: