Connecticut elementary school shooting: LIVE UPDATES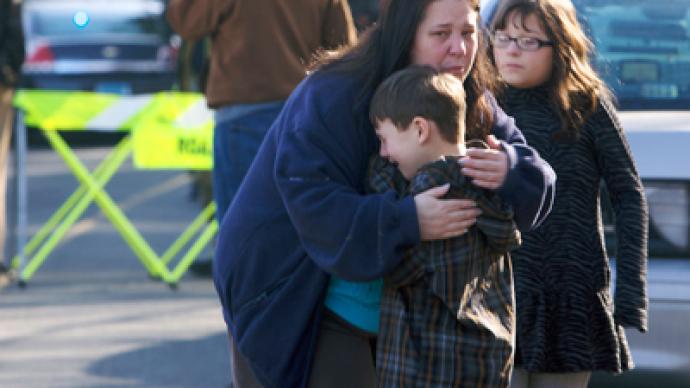 A gunman went on a murderous rampage in a Connecticut elementary school on Friday, killing at least 27 people, including 20 children, in what has become one of the deadliest shootings sprees in US history.
Dec. 16, 20:56 ET: The nation isn't doing enough to protect children, Obama says at a vigil in Newtown. "We will have to change.""As a community you've inspired us, Newtown. In the face of indescribable violence, in the face of unconscionable evil you looked out for each other, you've cared for one another and you've loved one another," the president said.
Dec. 16, 20:20 ET: President Barack Obama has taken part in a vigil in Newtown, consoling the grief-stricken families of the victims killed in Friday's elementary school massacre. Obama spent several hours privately with the mourning relatives and first responders.
Dec. 16, 19:30 ET: Investigators say Adam Lanza visited a shooting range, however it is not yet clear whether he actually practiced there, AP reports. Ginger Colburn, a spokeswoman for the Bureau of Alcohol, Tobacco and Firearms, would not identify the shooting range in question or say how recently he was there. She however added that the investigators have concluded that the shooter's mother, Nancy, visited shooting ranges several times.
Dec. 16, 17:35 ET:US President Barack Obama arrivesin Newtown, Connecticut, to console the families of the victims of the Sandy Hook Elementary School shooting.

Dec. 16, 16:18 ET: Connecticut police say the gunman behind the elementary school massacre fired multiple 30-round magazines and hundreds of bullets. It was also confirmed that his mother, Nancy, was one of the victims.
Dec. 16, 16:15 ET: Police officially identify the Connecticut elementary school shooter as Adam Lanza.
Dec. 16, 14:00 ET: Coroner: The gunman shot his mom multiple times in the head. At Sandy Hook school, the man killed himself with a shot to his head – AP.Dec. 16, 12:11 ET: Lt. Vance on being asked if Sandy Hook pupils will return to the school: "Too early to say… I would find it very difficult."Dec. 16, 12:04 ET: Lt. Vance: The gunman was carrying four firearms. All the shooting happened in a singular place which included two classrooms and a hallway. Lt. Vance did not detail any location of the deceased on being asked. Dec. 16, 12:00 ET:  Lots of "misinformation" have been posted on social media by people posing as police or authorities. These instances are crimes and will investigated. Police do not post on Twitter and have not released any official timeline of the massacre, Connecticut state police spokesman Lieutenant Paul Vance told a press conference.Dec. 16, 11:33 ET: The elementary school gunman committed suicide when he heard first responders coming, CT Gov. Dannel Malloy told ABC. Malloy had to break news to most of the families Friday.Dec. 16, 11:17 ET: The state's chief medical examiner says the gunman used a semi-automatic rifle as his main weapon. All the victims appear to have been shot several times, some of them at close range.
December 15
Dec. 15, 20:00 ET: A huge crowd gathered in Stratford, Connecticut, for a candlelight vigil in honor of Victoria Soto, the first-grade teacher at Sandy Hook Elementary School who was shot and killed while protecting her students. She was 27.

Dec. 15, 20:00 ET: Peter Lanza, the father of alleged Newtown gunman Adam Lanza, released a statement on Saturday extending his condolences to the families of the victims."Our hearts go out to the families and friends who lost loved ones and to all those who were injured. Our family is grieving along with all those who have been affected by this enormous tragedy. No words can truly express how heartbroken we are. We are in a state of disbelief and trying to find whatever answers we can. We too are asking why. We have cooperated fully with law enforcement and will continue to do so. Like so many of you, we are saddened, but struggling to make sense of what has transpired."
Dec. 15, 19:30 ET: US President Barack Obama will travel on Sunday to Newtown, Connecticut – the  site of Friday's horrendous elementary school shooting – AP.
Dec. 15, 18:40 ET: The sheriff of Rockingham County, New Hampshire, has delivered a statement on behalf of James Champion – the brother of Nancy Lanza, CNN reports. "The family of Nancy Lanza share the grief of a community and the nation as we struggle to comprehend the tremendous loss that we all share. Our hearts and prayers are with those who share in this loss, their families, teachers, staff and the students of Sandy Brook Elementary school, the first responders, and to all others touched by this tragedy. On behalf of Nancy's mother and siblings, we reach out to the community of Newtown and express our heartfelt sorrow for the incomprehensible and profound loss of innocence that has affected so many."

Dec. 15, 17:58 ET: The father of a girl killed in the Sandy Hook Elementary School shootings told a press conference that he expressed no anger about the tragic incident. Robbie Parker, the father of the 6-year-old Emilie Parker, thanked everyone for the condolences and extended his own to relatives of the victims, as well as to the family of the shooter."It is a horrific tragedy and I want everyone to know that our hearts and prayers go out top them. This includes the family of the shooter," said Parker. "I cannot imagine how hard this experience is for you. Our love and support goes out to you as well."

Dec. 15, 16:55 ET: Police in Newtown have released the full list of names of the shooting victims. The list includes 20  children – 12 girls  and eight boys all aged from six to seven. Six female adults were killed.
Dec. 15, 16:40 ET: Connecticut state police spokesman Lieutenant Paul Vance denied earlier reports that the gunman had an altercation with the school officials in the days before the attack. Vance said the investigation is ongoing and urged for privacy for the families of the victims of the shooting. "We're still actively pursuing leads, and we expect to continue to do so for the next 24 to 48 hours," he said.
Dec. 15, 16:05 ET:  Connecticut State's chief medical examiner says all the victims in the Sandy Hook shootings died of gunshot wounds and the deaths were classified as homicides. Everyone was shot more than once, he added.

Dec. 15, 15:00 ET: There have been reports that Adam Lanza had an altercation with Sandy Hook Elementary School official's days before the tragedy. Police are investigating the reports, sources tell ABC News.
Dec. 15, 12:00 ET: In his weekly address, President Barack Obama spoke of the Newtown school massacre."Our hearts are broken today. We grieve for the families of those we lost and we keep in our prayers the parents of those who survived because as blessed as they are to have their children home, they know that their child's innocence has been torn away far too early," Obama said in a recording aired Saturday."We have to come together and we're going to have to take meaningful action to prevent more tragedies from happening regardless of politics," he added.
New town shooting. 20 students and 6 adults dead. My sister died protecting her students. God why do you take her?

— Carlee Soto (@ICarlee23) December 14, 2012
Dec. 15, 10:24 ET: Lt. Vance: The gunman in rampage "forced his way into the school."Dec. 15, 10:24 ET: Lt. Vance: "Some vere good evidence" has been discovered that could explain "how and why" the shooter did it. No details have been provided. Dec. 15, 10:23 ET: Lt. Vance: The woman found dead at a second crime scene in Connecticut was a relative of the shooter.Dec. 15, 10:21 ET: All the 27 victims have been positively identified, Connecticut State Police Lieutenant Paul Vance told a press conference. But medical examiners still have some work to do and police will be releasing an official fatalities list only after that. "The victims' families ask to respect their privacy," said Lt. Vance, stressing the families are enduring an "extremely heart breaking" period in their lives. A trooper has been assigned to every family.Police are still working at the school and surrounding area. This may continue for at least two more days, or longer. Bodies of those killed in the shooting have already been removed from the school and taken to the state medical examiner.

Dec. 15, 09:42  ET: Flowers and balloons are left at the massacre scene.Dec. 15, 09:37 ET: Newtown reaching out to the survivors and families of those killed.

Dec. 15, 08:43 ET: The CT school shooting suspect fired at children from close range – law enforcement officials via WNBC. Dec. 15, 08:30 ET: Police are to shortly release names of the victims.Dec. 15, 08:17 ET: The superintendent of the Newtown schools tells NBC that Nancy Lanza, the suspect's mother, did not work at Sandy Hook Elementary. The school's database does not mention her.Dec. 15, 07:35 ET: Authorities have begun removing the bodies from Sandy Hook school and notifying the victims' next of kin.
Dec. 15, 00:40 ET: Adam Lanza, the main suspect in the Newtown shooting tragedy, was an honors student living in a prosperous neighborhood, AP reports, citing local sources.
December 14
Dec. 14, 23:10 ET: About a hundred activists have gathered in front of the White House for an anti-gun rally.

Dec. 14, 22:22 ET: World leaders have extended their condolences to the United States for what transpired in Newtown, Connecticut. "I would like to express my shock at the tragic shooting at the school in Connecticut today," European Union foreign chief Catherine Ashton said."This news… horrified me and I wish to express my deep shock and consternation," said French President Francois Hollande."I was shocked and deeply saddened to hear about today's horrific shooting," British Prime Minister David Cameron said.
Dec. 14, 20:30 ET: UN chief Ban Ki-moon extended his deepest condolences over the Sandy Hook Elementary School shooting in a letter to Connecticut Governor Dan Malloy. "The Secretary-General said that the targeting of children is heinous and unthinkable, and extended his thoughts and prayers to the families of the victims and with all others traumatized by this horrendous crime."
Dec. 14, 20:28 ET: Hundreds of people flocked to the St. Rose of Lima church in Newtown, Connecticut, for a vigil to remember the victims of the massacre that took place in the Sandy Hook Elementary School on Friday. Many were forced to stand outside holding candles, as the church could not hold all the mourners. Speaking at the vigil, Connecticut Governor Dan Malloy said: "In the coming days and in the coming weeks, I will pray that you all embrace one another that you lift one another up, that you understand the difficulties that you collectively will undergo."

Dec. 14, 19:19 ET: The suspected Connecticut shooter first killed his mother Nancy Lanza at their home and then went on a rampage in the Sandy Hook Elementary School, AP reports.
Dec. 14, 18:30 ET: Guns used in Connecticut school rampage were legally purchased and registered to the suspected shooter's mother, law enforcement officials told NBC News.

Dec. 14, 18:10 ET:  "Evil visited this community today," Connecticut Governor Dan Malloy told reporters in Newtown. "We'll do whatever we can to overcome this event. We will get through it. But this is a terrible time for this community and these families."
Dec. 14, 18:03 ET: In a message of condolence to US President Obama, British Queen Elizabeth II said she was "deeply shocked and saddened" by the shootings in Connecticut, BBC reports.
Dec. 14, 17:20 ET: The suspected shooter, Adam Lanza, is autistic, or has aspergers syndrome and a "personality disorder," his elder brother Ryan Lanza told authorities, ABC reports.
Dec. 14, 17:03 ET: One person was injured in Connecticut school shooting, police say.
Dec. 14, 16:56 ET: A Glock and a Sig Sauer pistols belonging to the gunman were found inside the school, a law enforcement official told AP on condition of anonymity. Also, a .223-caliber rifle was found in the back of Nancy Lanza's car, which her son used to drive to the school.

Dec. 14, 16:50 ET: The total death toll in Connecticut stands at 28, police say. This includes 20 children and six adults killed at the school, the suspected attacker and an adult victim at the second scene in Connecticut.
Dec. 14, 16:21 ET: A law enforcement official has confirmed that the suspect in the Connecticut school shootings is 20-year-old Adam Lanza – AP. His brother, Ryan Lanza is being questioned by police. Nancy Lanza, a teacher at the Sandy Hook Elementary School, has been identified as his mother – WCBS-TV.
Dec. 14, 16:18 ET: Investigators believe the mother was the suspect's primary target, but its thought to have come with clear intention of mass killing, CNN says.
Dec. 14, 16:10 ET: Law officials say that the Connecticut school shooting suspect is a 20-year-old son of a teacher – AP.
Dec. 14, 16:04 ET: The shooting suspect is no longer identified as Ryan Lanza, CNN says. The attacker could have been carrying his older brother's ID, according to NBC News. Police however have not yet released the suspect's identity
Dec. 14, 15:51 ET: Twenty children and six adults pronounced dead at school, area, Connecticut police say.
Dec. 14, 15:41 ET: Connecticut Governor Malloy: "Perpetrator of crime is dead, as is a person perpetrator lived."
Dec. 14, 15:30 ET:  President Obama said the country's leaders must "take meaningful action" regardless of politics, in response to the mass shooting at a Connecticut elementary school. The president had apparent difficulty speaking and used his index finger to wipe at the corner of his eyes.

Dec. 14, 15:23 ET: The younger brother of the suspect in the Connecticut shooting is being held for questioning, as a possible second shooter, AP quoted a law enforcement official as saying.
Dec. 14, 15:20 ET: "While nothing can fill the space of a lost child or loved one, all of us can extend a hand to those of us in need" – Obama said in an emotional statement on the Connecticut school shooting.
Dec. 14, 15:17 ET: President Obama: "Our hearts are broken today."

Dec. 14, 15:12 ET: Robert Licata told the AP his son aged just 6 was in class when the gunman burst in and shot the teacher. "That's when my son grabbed a bunch of his friends and ran out the door," he said. The shooter didn't say a word, Licata added.Dec. 14, 15:09 ET:  Flags on Capitol Hill have been ordered to be flown at half staff through sunset on December 18. Dec. 14, 15:00 ET:  SIG and Glock pistols were found at Sandy Hook Elementary School, while a Bushmaster rifle was found in the suspect's vehicle, law enforcement officials tell WCBS-TV.Dec. 14, 14:57 ET: The suspect's younger brother has been held – AP source.
Dec. 14, 14:51 ET: President Obama to make a statement about the Newtown school shooting at 15:15 ET (20:15 GMT). This will be followed shortly by Gov. Malloy's press conference.Dec. 14, 14:43 ET: The shooting happened quickly and happened in a concentrated area, police tell CNN.Dec. 14, 14:37 ET: Many of the victims appear to be the students of the suspected gunman's mother – WCBS-TV.Dec. 14, 14:26 ET: All public and private schools in Newtown are on lockdown. Dec. 14, 14:23 ET: The suspected gunman's mother, Nancy Lanza, was a teacher at the elementary school, reports CBS News. She is among those killed.Dec. 14, 14:22 ET: CNN quoting a law enforcement official: The suspect is named Ryan Lanza, 24.Dec. 14, 14:15 ET: Child victims were aged 5-10.Dec. 14, 14:11 ET: NBC: A parent of the suspected shooter has been found dead at a home in New Jersey.

Dec. 14, 14:10 ET:The death toll in the Newtown school shooting is approaching 30, a source tells CNN. Most of them are children.Dec. 14, 14:06 ET: The suspected shooter might have murdered someone else before going to the elementary school, a new report by CBS News suggests. A dead body has been found in his house.Dec. 14, 13:54 ET: The suspected shooter was armed with four weapons. He was wearing a bullet proof vest – WABC.Dec. 14, 13:49 ET: President Barack Obama is receiving updates on the incident, will comment later in the day.Dec. 14, 13:44 ET: "The scene is secure. Public is not in danger", Conn. State Police's Lt. Vance told a press conference in the wake of the shooting. However, he only confirmed "several fatalities, both students and staff" and "the shooter is deceased inside the school building." The death toll will be released after all the affected families are notified. Dec. 14, 13:40 ET: Connecticut Gov. Malloy is now meeting with the families, Connecticut Governor's senior adviser Roy Occhiogrosso said at a press conference.Dec. 14, 13:31 ET: Children had to hide in the school's gym until the police came to pick them up and take to the firehouse. Parents continue picking up their kids from the designated safe zone, reveals CNN.

Dec. 14, 13:28 ET:Three people have been taken to nearby Danbury Hospital. One of them a teacher who was shot in the foot, AP reports. The Newtown Bee also reports that one kid, apparently injured, was carried from the scene by a police officer.Dec. 14, 13:25 ET: One person has been taken into custody, police are trying to understand if the person has had any role in the incident – NBC News.Dec. 14, 13:20 ET: Responding SWAT teams will now begin investigating home of the possible second shooter.Dec. 14, 13:18 ET: The school's principal and psychologist are among the dead, numerous media outlets report.Dec. 14, 13:16 ET: A federal law enforcement official says the dead gunman was a 20-year-old local, carrying two handguns.

Dec. 14, 13:11 ET: An entire classroom of students remains unaccounted for, reports AP citing local sources.Dec. 14, 13:10 ET: "At least 100 rounds" could be heard being fired, a witness who was inside the school during the shooting tells CNN.Dec. 14, 13:09 ET: Two handguns have been recovered.Dec. 14, 13:08 ET: Photos from the scene show young students, some crying, others looking scared, being escorted by adults through a parking lot. The children were evacuated to a nearby firehouse where they could reunite with parents.

Dec. 14, 13:01 ET: Reports suggest the gunman was the father of a student.Dec. 14, 12:59 ET: A gunman was found dead at the scene. It is unclear if he was killed by police or took his own life. There are fears he might have had an accomplice.Dec. 14, 12:59 ET: Up to 18 children are among those killed, reports the Associated Press.Dec. 14, 12:53 ET: At least 27 people are dead, including several children, after a shooting at Sandy Hook Elementary School in Newtown, Connecticut, outside of New York City. The incident took place at around 9:40am Friday.