San Francisco families could be at risk of radiation poisoning - report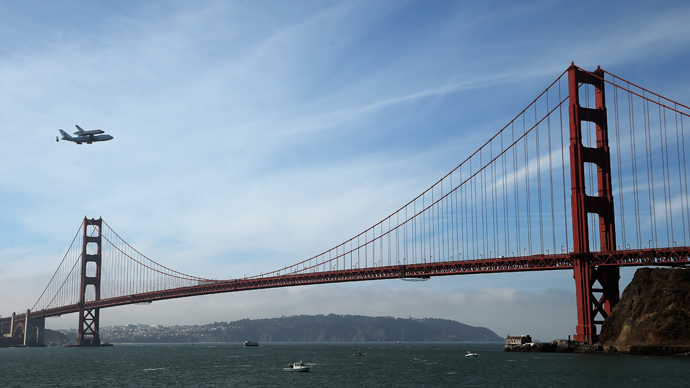 A small island in the heart of San Francisco Bay could be a major source of radiation and the young families that live there may be at risk of poisoning, a new report from the California Department of Health has concluded.
Treasure Island, a man-made landmass within view of the Golden Gate Bridge, is the former site of a US military base that is now home to renovated land areas, playgrounds, and apartment buildings. San Francisco lawmakers previously announced their intention to build an 8,000-unit tower there once the Navy formally cedes land rights.
Earlier this year, workers with the California Department of Public Health found radioactive shards in the ground on the western side of the island. One object was so radioactive that holding it for an hour would result in burns, hair loss, and other maladies, according to the Center for Investigative Reporting.
Authorities issued a letter in March to the 2,000 people who live on the island, stating that the radioactivity left behind when the Navy base closed in 1997 is not a health risk today. But that reassurance was flawed in that it did not note the aforementioned radioactive risk found underground just months before.
An internal memo written in September and unveiled this week admonished officials' prior notice for implying that the area is known to be safe.
"Further evaluation should be made of the probability of a member of the public, especially critical members of the population (for example, children) picking up a radioactive fragment and being exposed," state health officials wrote, as quoted by the Center for Investigative Reporting.
"As of 2011, 575 radioactive shards had been found on Treasure Island," the memo continued. "Regulators have speculated that the shards could have been buried for military practice using Geiger counters, which measure radiation. Earlier this year CDPH officials found radioactive shards buried in lawns near apartments on the island."
The shards could also be glow in the dark buttons from the 1939-1940 Golden Gate International Exposition that was held on the island, or markers from the decks of naval ships. Officials admit they are unsure exactly how many of the potentially dangerous objects remain on the island.
Health officials have repeatedly pressed the Navy to conduct examinations on the island, but when they have, the results have consistently disappointed. The Navy issued a notice on September 3 declaring that contractors would spend 10 weeks testing around apartments, playgrounds, yards, sidewalks, and any grassy areas. It remains unclear when those results will be finalized.
You can share this story on social media: