San Francisco moves to ban public nudity
If you're going to San Francisco, be sure to wear, well, something. The Northern California city's long-standing acceptance of public nudity is under attack, and baring it all might be a crime pending a vote scheduled for this week.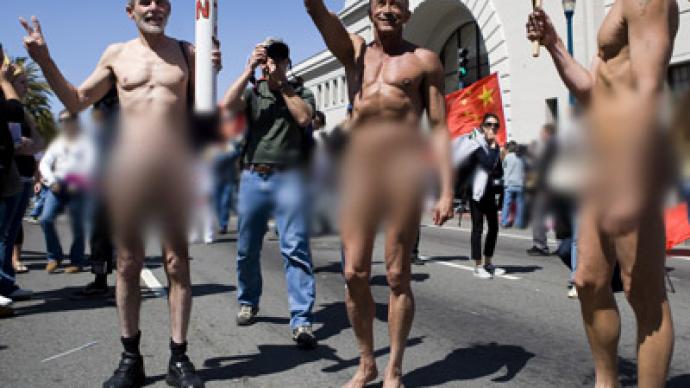 Lawmakers in San Francisco are expected to vote Tuesday on a measure that, if passed, will pose a problem for the city's substantial nudist population. Should officials opt to approve a controversial proposal introduced by Supervisor Scott Wiener, clothing will soon be all but mandatory in the City by the Bay.Residents of San Francisco have had a long-standing acceptance of public nudity, but Wiener wonders if it has gone too far. He cites an explosion in recent years of nakedness in the city's famously gay Castro District — the very neighborhood he represents — as reason enough to warrant legislation."I don't think having some guys taking their clothes off and hanging out seven days a week at Castro and Market Street is really what San Francisco is about. I think it's a caricature of what San Francisco is about," Wiener said. Now if he has his way that could all change.Should Wiener's proposal be approved during this week's vote, it'll be for once and for all illegal for any person over the age of 5 to "expose his or her genitals, perineum or anal region on any public street, sidewalk, street median, parklet or plaza" or while using public transit. Attendees at events awarded city permits, such as those at the annual sadomasochism-friendly Folsom Street Fair, would escape prosecution for public nudity. Those that regularly disrobe in the Castro district and display eye-catching genital jewelry and body modifications not exactly modicum in good taste will be left looking at a $100 fine for their first offense, and perhaps jail time if two more tickets are issued by the police.Business owners in the Castro are aware of the city's rich tradition of turning the other cheek when it comes to public nudity. Rob Cox, board secretary of the Castro/Eureka Valley Neighborhood Association, echoes Wiener's call in saying things have just gone too far lately. Speaking to the Los Angeles Times, Cox claims that "Ninety percent of the business owners were furious" when a group of so-called "Naked Guys" starting staking out city territory to turn into their own personal nudist playground."Jane Warner Plaza is the only usable public plaza in the Castro," Cox said during a recent Board of Supervisors meeting. "It is our town square. And it has become dominated just about every afternoon by one group…. The Castro is not about a group of men exposing themselves every day."McCray Winpsett is a 37-year-old exhibitionist and understands complaints like that one from Cox. "A few lewd exhibitionists are really ruining it for the rest of us," Winpsett tells the Associated Press, while still suggesting that the proposed law might be overreaching on behalf of Wiener. To the AP, Winpsett says Wiener's proposal has the possibility of ruining the long-standing custom "that keeps San Francisco weird."Should Wiener's have his way this week, San Francisco is likely to stay pretty weird. Public nudity will just be a matter reserved for permitted events. "I suspect there are a lot of places that maybe don't currently have a local law (and) that if people started getting naked every day would quickly see a local law," Wienertells the AP.
You can share this story on social media: