Veteran who barely survived police beating at Occupy rally sues Oakland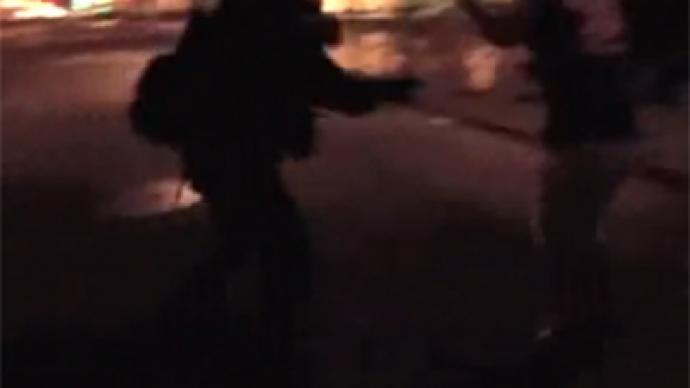 A former US Army Ranger was severely beaten and arrested during an Occupy Oakland protest, suffering a lacerated spleen while being denied immediate treatment. The Californian prison is now facing a lawsuit for its neglect of the injured man.
Army veteran Kayvan Sabeghi, 33, was arrested and jailed in November 2011 during a nonviolent Occupy Oakland protest while he was trying to walk home, refusing to change his direction. A video of the incident shows a line of police in riot gear approaching the young man, with one of the officers proceeding to beat Sabeghi with a nightstick. He was subsequently arrested on suspicion of remaining at the scene of a riot. While incarcerated at the Glenn Dyer Jail, the prison staff refused to help him while he lay on the floor vomiting from his injuries, unable to move and begging for help. Sabeghi eventually went unconscious in his jail cell.The lawsuit claims that the sheriff's deputies accused the man of being drunk and having a heroin withdrawal, when in reality he was suffering from the effects of a ruptured spleen. One prison employee checked Sabeghi's blood pressure and determined he was an alcoholic and a diabetic."Later, another County deputy looked into the cell and observed Mr. Sabeghi lying on the floor throwing up. This deputy taunted Sabeghi by stating, 'Don't do heroin,'" the lawsuit stated. "He then pointed Mr. Sabeghi out to the other inmate and stated, 'see this is why you don't do heroin.'"After a day of neglect in his prison cell. Sabeghi's friends posted bail. When the sheriff's deputies finally realized he didn't have the strength to move from his cell, they called an ambulance for him and he was taken to a nearby hospital. Sabeghi remained in intensive care for his lacerated spleen and internal bleeding for five days.The lawsuit against the prison claims that the officers "acted with deliberate indifference to a serious medical need," thereby inflicting further pain and harm to an already-injured man and bringing him close to death.The lawsuit, which was filed by anti-war protester Dan Siegel, is seeking upwards of $1 million in damages to pay for Sabeghi's medical care as well as to compensate for the physical and emotional pain he endured from the incident.Siegel told The Guardian that he hopes the lawsuit will also shed light on the practices of the jail staff and improve conditions."The greater concern that [Sabeghi] has is that there be some changes at the jail," he said. "It's a big problem that the county has privatized health services in a public jail and that the company that's doing it is more concerned about making money than providing quality care."In the prison, Sabeghi was falsely diagnosed as being alcoholic when his condition was dire. The private company Corizon is meant to take care of the prisoners, but the medical staff allegedly refused to examine the man's injuries.The lawsuit claims that Sabeghi was denied treatment and mocked by prison guards for 18 hours, with one of them even video taping the injured man while he was vomiting and writhing in pain."There are a lot of people taken to jail who have substantial medical problems," said Siegel. "There are a lot of people with drug and alcohol problems and they need to be adequately cared for … When you have guards who ridicule people with health problems, that's a setup for failure. Maybe there are some who exaggerate their symptoms but I think they should all be checked out and if someone continues to complain, they should be given the benefit of the doubt. At least get a doctor."