Ron Paul's message of truth speaks for itself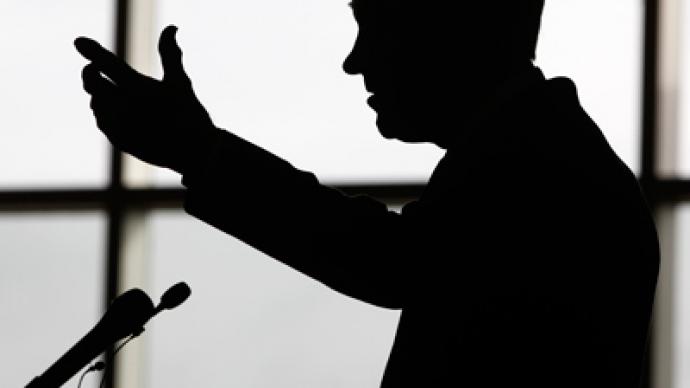 An economic collapse. An end to American exceptionalism. Out all chaos and unrest. It isn't a pretty picture, but it could be a very likely reality for the future of the United States — and Ron Paul isn't afraid to admit it.
As the congressman from Texas takes the lead in Iowa one week before the state's caucus is set to start, the libertarian-leaning lawmaker is warning of doom and gloom for the US if the country continues the downward spiral that is dragging almost every aspect of the American way of life. Jobs are leaving, freedoms are crumbling and the US dollar is quickly becoming worthless.The truth hurts, but for the voters, it needs to be said. Representative Paul knows it and the polls suggest it's something that is needed to be said.Paul's fellow frontrunners in the race for the Republican Party's nomination have largely refrained from straying from mainstream GOP ideologies. While Paul is no doubt a career conservative, he has managed to separate himself from the rest of the pack by suggesting that the weary ways of modern America aren't all that his peers have cracked them out to be. Rather, says Paul, America is destined to fail any further if it doesn't try to pick itself up and piece it back together.During recent Republican Party debates, GOP contenders have all but waged war with competing nations to continue with America's policy of governing the globe. According to Paul, however, it is that elitist attitude which is spawning terrorist attacks and other strikes against the States. Fellow GOP hopeful Michele Bachmann writes Paul's philosophies on such as ludicrous and detrimental to American security, but for the only Republican contender with military experience — and decades in office — he not only thinks otherwise but would seem to know best.Others have remained amazingly optimistic about America's economy but have not come close to proposing a legitimate plan for revamping it. Paul, however, recently warned that the current conditions of the country come close to mimicking that of the Soviet Union before its collapse. To avoid this, warns the congressman, America should stop fighting wars overseas, abolish the Federal Reserve and a series of other unnecessary offices if it wants to save its economy.Once again, all other contenders won't come close to tackling an issue that doesn't go hand-in-hand with the mainstream goals of the GOP. Paul, however, wants to end the fed and foreign aid, a move that he says in part could add $1 trillion to America's budget in only one years' time.Radical ideas? Absolutely. But with the last few administrations only worsening America's standing, a change of pace is without a doubt what America needs to get back on track. That's why Paul's supporters — Middle American conservatives concerned about a collapse of the country and young adults thinking outside the box — are coming together in droves.Those rooting for the Republican congressman are doing so strong enough that they have propelled their candidate to first place in the polls in Iowa. The mainstream media and core GOP establishment, as a result, are not running scared. Does it guarantee a victory for the lawmaker come next week? It could be. Regardless of the outcome, however, it looks as though Paul isn't afraid to speak his mind and more and more Americans are becoming scared of those that can't.