Ron Paul wins first caucus; mainstream media calls it for Romney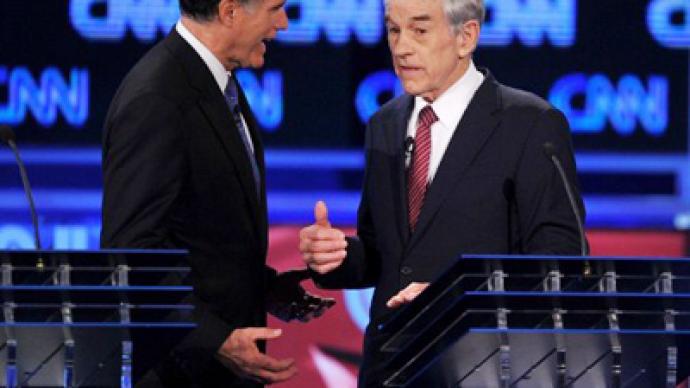 Republican presidential hopeful Ron Paul won his first caucus over the weekend, but the mainstream media by-and-large reported Mitt Romney the victor instead.
Voters in the US Virgin Islands hit the polls on Saturday to nominate an opponent for Barack Obama, and although Texas Congressman Ron Paul garnered more popular votes than any of his rivals, mainstream media outlets were quick to call the contest in favor of former Massachusetts Governor Mitt Romney. While more votes were cast for Ron Paul, Romney walked away with the most delegates this weekend. For The Associated Press and others, that was enough to call the contest in favor of the conservative founder of Bain Capital.
Not only does that decision inaccurately represent poll figures from the weekend, but goes against the formula the mainstream media relied on for other caucuses and primaries thus far this election year. Jack Hunter, a blogger for the Ron Paul campaign, writes that the media is "trying to have it both ways." Although Congressman Paul had failed to achieve the most votes in any other state contest in 2012, he has developed an unorthodox strategy of collecting delegates in districts that have been awarded to his Republican Party rivals in terms of the popular vote. In those instances, the mainstream media has reported the winner in terms of popular votes; in the Virgin Islands, they decided to switch things up.
Although Paul won 29 percent of the popular vote to Romney's 26 percent, the mainstream media called the contest for Romney, who won seven delegates to the congressman's one. In the wire report filed by the AP on March 11, the outlet declares Romney the winner while never revealing the tally of popular votes cast.
"The media is reporting that Mitt Romney won the US Virgin Island Caucus when Ron Paul actually won the popular vote," the Paul campaign explains to supporters in an email over the weekend. "If the popular vote means you've won, then Ron Paul just won the US Virgin Island Caucus. If collecting delegates equals victory, then Paul stands to do well there too."
The Paul campaign has explained in the past that while coming up short time-and-time again in terms of collecting the popular vote in state-wide contests, a strategy the relies on delegates was expected to be key for the congressman's vie at the GOP bid. "We think that's the way a party should really pick its nominee," campaign manager Jesse Benton told the National Review earlier this year. "We think that the activists that are most tuned in to the issues, most engaged in the process should be the ones selecting the nominee."